U.S. Stocks Rally as Hardest-Hit Shares in 2016 Continue Rebound
by
Equities post their first three-day advance this year

Banks, retailers further recover from steep losses this year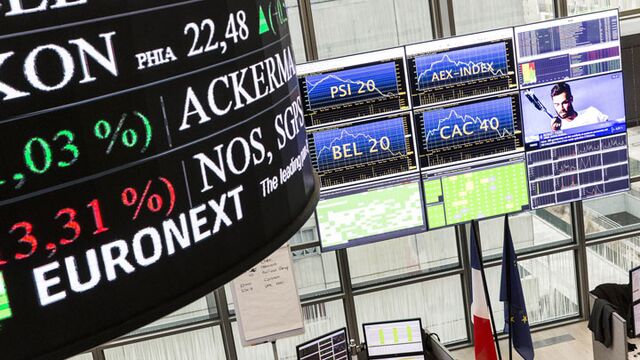 U.S. stocks rallied, with the Dow Jones Industrial Average rising more than 250 points, as the year's most-battered shares continued to recover and energy shares climbed with oil prices.
Chevron Corp. gained 4.1 percent to a one-month high. Priceline Group Inc. surged 11 percent to help lift an index of retailers after the online travel agent's results beat estimates. Freeport-McMoRan Inc. rallied 12 percent after filings showed Carl Icahn boosted his stake in the copper producer. Citigroup Inc. and Bank of America Corp. increased more than 2.2 percent as lenders posted their best three-day rally in more than five years.
The Standard & Poor's 500 Index rose 1.7 percent to 1,926.82 at 4 p.m. in New York, capping its first three-day advance this year and closing at a two-week high. The Dow climbed 257.42 points, or 1.6 percent, to 16,453.83. The Nasdaq Composite Index gained 2.2 percent. About 9.2 billion shares traded hands on U.S. exchanges, 14 percent above the three-month average.
"If you accept the notion that you can never call an absolute bottom, but you can say you're in a bottoming process, bearish sentiment is a key gauge for why investors are getting back in there and buying," said David Sowerby, a portfolio manager at Loomis Sayles & Co. The firm oversees about $230 billion. "This move, if anything, is on washed-out sentiment being yet again a usual bottoming indicator."
Equity gains are coming virtually as fast as the losses that sent the S&P 500 to its worst start to any year, with almost half of 2016's decline made up in three days. The rally today occurred as oil climbed more than 5 percent, Federal Reserve officials expressed caution on the economy and data on manufacturing was better than forecast.

This year's most beaten-down industries have bolstered the gains since the main U.S. equity index closed at a 22-month low last Thursday, amid a sense that the selling was overdone. Banks in the benchmark are up 9.7 percent in the last three sessions, recovering from the lowest level since 2013, while retailers have surged 7.3 percent, rebounding from a 16 percent drop to begin 2016.
Other hard-hit industry groups making comebacks include automobile & auto-parts companies, and semiconductor & chip equipment makers. Among the auto-related stocks, Delphi Automotive Plc extended its three-day climb to more than 12 percent, after dropping as much as 34 percent this year.
In raw-materials, Freeport-McMoRan has soared more than 46 percent since Thursday, erasing a 2016 decline that reached 39 percent at its worst point in January. DuPont Co. rose 3 percent, trimming its drop this year to 9 percent after losing as much as 23 percent.
A basket of companies with the most bearish bets climbed 3.9 percent Wednesday, doubling the gain in the S&P 500 for a second straight day. The gauge compiled by Goldman Sachs Group Inc. has rallied almost 10 percent in three days, a sign one of the things fueling the rally is purchases by short sellers.
The S&P 500 is down 9.6 percent from its May record, and had dropped as much as 14 percent this year amid concerns that weakness in China and falling commodity prices portend a deepening global slowdown. Just in the last three sessions, the benchmark has pared its February retreat to less than 1 percent after sinking as much as 5.7 percent.
The Chicago Board Options Exchange Volatility Index fell 7.5 percent Wednesday to 22.31, bringing its three-day drop to 21 percent. The measure of market turbulence known as the VIX is now up about 10 percent this month, after gaining as much as 39 percent by last Thursday's close.
Selloff 'Overdone'
"A large proportion of the rout we saw in the first six weeks of the year was overdone, particularly with regards to banks," said Peter Dixon, an economist at Commerzbank AG in London. "Does it mean the selloff is over? No clearly not, but it's definitely a positive signal. You get this significant divergence between the market perception and reality, which over time will close, and that's why we are seeing the rally we are seeing and it gives you some hope."
Minutes released today from the Fed's latest meeting showed policy makers expressed concern that the fall in commodity prices and the rout in financial markets increasingly posed risks to the U.S. economy. That was a sentiment Chair Janet Yellen echoed in testimony before lawmakers last week, as she signaled the central bank could delay its plans for tighter policy to assess how the economy reacts to current headwinds.
Meanwhile, investors are scrutinizing data for signs of any damping in growth. A report today showed new-home construction unexpectedly cooled in January, while a separate gauge showed a surprise increase in wholesale prices last month as higher food costs more than made up for the plunge in energy. Another measure said manufacturing output rose in January by the most since July 2015, a sign the industry was starting to stabilize at the beginning of the year.
"The combination of minutes from the Fed, plus weaker data clearly suggests that the Fed isn't going to hike at the March meeting," said Phil Orlando, who helps oversee $360 billion as chief equity market strategist at Federated Investors Inc. in New York. "Markets are taking comfort in that. It's a near term positive. We've still got China, still got longer term uncertainty about the Fed, even if we have clarity on the March issue."
Citigroup Inc.'s U.S. Economic Surprise Index has been on the mend lately, rising six straight days through Monday, its longest streak of gains since October. The measure has climbed 15 percent since reaching an eight-month low on Feb. 4.

Nine of the S&P 500's 10 main industries advanced, as energy and technology companies led with gains of more than 2.3 percent. Consumer discretionary and raw-materials added at least 1.9 percent. Utilities were little changed as the worst performers.
Kinder Morgan Inc. increased 10 percent after a regulatory filing showed Warren Buffett's Berkshire Hathaway Inc. added an investment in the company during the fourth quarter. Consol Energy Inc. and Southwestern Energy Inc. rose more than 11 percent. West Texas Intermediate crude futures surged, briefly topped $31 a barrel.
Technology companies in the benchmark gained 2.3 percent, as Microsoft Corp. and Facebook Inc. added at least 2.6 percent. Micron Technology Inc. gained 5.7 percent to a one-month high and trimming its loss this year to 19 percent, while Intel Corp. rose 2.4 percent, the most in more than two weeks.
Amazon.com Inc. climbed for a fifth day, its best streak since October, to pace gains among consumer discretionary companies. Walt Disney Co. and Netflix Inc. increased more than 2.7 percent. Garmin Ltd. rallied 17 percent, the most since 2009, after the company reported earnings that beat analysts' estimates.
Financials, the worst-performing sector year to date, held on to a third day of gains for the first time this year. Charles Schwab Corp. and MetLife Inc. gained more than 3.2 percent. The KBW Bank Index added 0.7 percent, after earlier rising 1.9 percent.
Boeing, Caterpillar
Boeing Co. and Caterpillar Inc. were near the top of the Dow, rising more than 3.1 percent to support the advance among industrial shares. Boeing is on the rebound after its shares plunged to a more than two-year low last Thursday, falling 25 percent year to date as the worst performer in the Dow. Since then, shares are up 7.3 percent.
Among shares moving on earnings news, Cerner Corp. fell 4.8 percent, paring an earlier drop by almost half, after reporting fourth-quarter bookings that missed the health company's forecast. Devon Energy Corp. lost 4.4 percent after its results were short of analysts' estimates. The oil and natural gas producer also cut its dividend, capital spending and workforce to weather the slump in crude prices.
Bloomin Brands Inc., operator of Outback Steakhouse and Bonefish Grill restaurants, sank 11 percent, the steepest in 18 months, after quarterly results missed forecasts. The company also plans to close 14 Bonefish locations.
With the earnings season nearing completion, about three-quarters of results from S&P 500 firms exceeded profit projections, less than half have topped sales forecasts. Analysts estimate earnings at S&P 500 companies fell 4.5 percent in the fourth quarter, compared with Jan. 15 predictions for a 7 percent slump.
Before it's here, it's on the Bloomberg Terminal.
LEARN MORE