U.S. Gets Final Shot at Verdict in Ex-BP Manager's Trial
by and
Clean Water Act charge is all that remains after deadly blast

2010 oil-well blowout left 11 dead, fouled Gulf of Mexico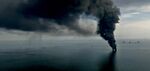 Federal prosecutors have one last chance to send someone to jail over the deadly 2010 BP Plc Gulf of Mexico well blowout and the worst offshore oil spill in U.S. history.
Robert Kaluza, the former BP well-site manager on trial in New Orleans federal court, faces as long as a year in prison plus fines if he's convicted. Whether prosecutors will have better luck against him than with others who fended off charges connected to the spill will be up to a jury of six men and six women who heard opening statements Wednesday.

Kaluza, having already beaten more serious charges, faces a lone misdemeanor count of violating the U.S. Clean Water Act. A co-defendant charged with the same crime pleaded guilty and reached a deal with the U.S. that calls for a sentence of 10 months' probation, 100 hours of community service and $50,000 in restitution for fouling the water in the gulf.
BP pleaded guilty and agreed in 2012 to pay $4 billion for multiple counts including 11 for manslaughter. But only four BP employees, including Kaluza, were prosecuted. No one in BP's onshore chain of command for the well was charged and no individual has gone to jail. 
The only conviction at trial, over mishandling evidence after the spill, was overturned, with the defendant Kurt Mix later pleading guilty to a minor charge. David Rainey, the highest-ranking BP executive charged, was acquitted of downplaying spill-size estimates.
Dead Workers
Kaluza meanwhile will benefit from pretrial rulings by U.S. District Judge Stanwood Duval Jr., who's overseeing the trial. Duval this month barred the U.S. from talking about the 11 drilling rig crew members who died in the April 2010 blast, calling the deaths irrelevant to the alleged pollution violation. Duval said he'd tell the jury about four of the dead workers, but only to let them know why those individuals weren't testifying in the trial, which is expected to last three weeks.
The U.S. claims Kaluza was negligent and he shares responsibility for the blowout and subsequent pollution.
"Other things went wrong and other people were negligent here," U.S. prosecutor Jennifer Saulino said in her opening statement on Wednesday. "But he was certainly one of them."
Innocent Client
Shaun Clarke, an attorney for Kaluza, told jurors his client is innocent and "didn't make the choices" that set off the well explosion. Kaluza was the day-shift supervisor and had left hours before critical decisions were made, Clarke said. He had just joined the crew as a fill-in and wasn't aware of problems with the well, he said.
"Bob Kaluza was a four-day substitute on the Deepwater Horizon," Clarke said. "For that he stands accused of perpetrating the greatest environmental crime of our nation's history."
The blowout of BP's Macondo well, the sinking of the drilling rig, and the crude that gushed from the uncapped well on the sea floor for almost three months, have burdened the London-based company with private lawsuits and government fines. BP has set aside $55.5 billion to pay spill-related costs and settlements, according to its Feb. 2 earnings statement.
Civil Penalties
Last year, BP agreed to pay $20.8 billion to resolve state, local and federal pollution civil penalties and damage claims. The company previously settled economic harm claims with most private-party plaintiffs for an amount it now estimates at $12.4 billion. The ultimate price tag "will likely be significantly higher" because many claims haven't been processed, BP said.
Kaluza, 65, was indicted in 2012 along with Donald Vidrine, another BP manager, and charged with ignoring multiple indications that the Macondo well wasn't secure and failing to maintain control of the well. Both initially faced 11 counts of seaman's manslaughter and 11 counts of involuntary manslaughter, as well as the pollution count.
The seaman's manslaughter charges against both were thrown out because the dead workers weren't seamen and the U.S. dropped the involuntary-manslaughter claims in December. Vidrine, who pleaded guilty to the final count that month, may testify at Kaluza's trial. Vidrine is scheduled to be sentenced in April.
Pressure Test
Prosecutors contend the well blew out because Kaluza and Vidrine negligently misinterpreted a critical negative pressure test on the well, concluding it had been safely sealed from leaks when oil and gas were actually beginning to seep into the well from the underground reservoir.
Clarke rejected those assertions on Wednesday, telling jurors the test "wasn't misinterpreted -- it was mis-designed."
Before the blast, Vidrine ordered the Deepwater Horizon crew to begin replacing heavy drilling mud that was holding back hydrocarbons in the well with lighter seawater, according to a filing accompanying his guilty plea. That allowed the leaking oil and gas to shoot up the pipe and explode on the rig floor.
Both men were responsible for misinterpreting the negative pressure test results, and Vidrine's order to replace the drilling mud was made with Kaluza's knowledge and consent, the U.S. contends.
Kaluza was the well site leader and "the guy in charge" who was responsible for failing to realize something was wrong with the negative pressure test, Saulino, the prosecutor, told the jurors. He ignored pressure on one of the lines, an indication the test wasn't successful, she said.
"Robert Kaluza was negligent," Saulino said. "Make no mistake, Mr. Vidrine was negligent too, and he will come here and he will tell you that himself."
Clarke told jurors that Kaluza relied on Vidrine, who didn't see problems with the negative pressure test. The four crew members who died "all agreed with Vidrine that the test was good," he said.
"Vidrine was no rookie," Clarke told jurors. "He had 39 years of experience."
The case is U.S. v. Kaluza, 12-cr-00265, U.S. District Court, Eastern District of Louisiana (New Orleans).
Before it's here, it's on the Bloomberg Terminal.
LEARN MORE