TPG Partner Wang to Join Minsheng Financial as Chief Executive
by
Wang to keep ties with TPG as firms seek to invest together

Joins Chinese company Wednesday on a three-year contract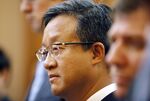 Sing Wang, a partner at TPG Capital, has stepped down from the U.S. private equity firm after almost a decade to become chief executive officer of China Minsheng Financial Holding Corp.
Wang, 52, joined the firm on Wednesday and will enter into a three-year service contract, China Minsheng Financial said in a Hong Kong stock exchange statement. He became a senior adviser to TPG after leaving his roles as co-chairman of Greater China and head of the TPG Growth fund for North Asia late last year.
Wang, who was named partner at TPG in 2006, said the buyout firm and his new employer will seek to make investments together and Internet finance will be a big focus area for the Chinese company. China Minsheng Financial was taken over by a unit of China Minsheng Investment Corp. in December and is now part owned by D.E. Shaw & Co.
"As we speak we're exploring opportunities to work together," Wang said in a phone interview. "It's not really about leaving TPG, per se. Technically, I'll still be an adviser and there are a lot of things going on."
Goldman Background
CMI Financial Holding Corp., a Minsheng Investment unit, and investors including D.E. Shaw bought China Minsheng Financial for HK$5 billion ($642 million). CMI owns 71 percent of Minsheng Financial, formerly known as China Seven Star Holdings Ltd., and D.E. Shaw has 8.1 percent.
Xu Xiang, the general manager of Shanghai Zexi Investment Management Co., who had agreed to take a 3.47 percent stake, failed to complete the share subscription, according to a company announcement in December. Xu, one of China's highest-profile and top-performing money managers, is among the targets of a government crackdown after the nation's $5 trillion stock market rout last summer. He was under investigation for suspected inside trading, the official Xinhua news agency reported in November.
 
Before joining TPG, Wang was the CEO of TOM Group Ltd., a Chinese-language media and Internet conglomerate in Greater China, from 2000 to early 2006. Since 1993, he spent seven years at Goldman Sachs in various positions including executive director and head of China high technology in Hong Kong. He was a founding member of Goldman Sachs's Asia private-equity team, according to the statement.
China Minsheng Investment was established in Shanghai in May 2014 with registered capital of 50 billion yuan ($7.7 billion). Its businesses range from equity investment and financial consulting to asset management.
Before it's here, it's on the Bloomberg Terminal.
LEARN MORE