The Coming War for the Democrats' Caucus Archipelago
Barack Obama showed in 2008 that the path to winning the Democratic nomination runs through places like Idaho, Alaska, Guam, and the Virgin Islands—and the battles there are already heating up.
By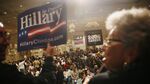 In 2008, in a strategic blunder that reflected a combination of miscalculation and complacency, Hillary Clinton effectively conceded the nation's caucus states to Barack Obama. This year, Clinton cast the tragic hero of that failure in a starring role: campaign manager Robby Mook oversaw her 2008 campaign in Nevada, the only caucus state where Clinton won more votes than Obama, even though he cleared more delegates. A very narrow victory in Iowa reassured Clinton's team that it can compete in the logistically demanding contests where liberal activists usually hold sway. Ever since, state-campaigns director Marlon Marshall—who had served under Mook as Nevada field director in 2008—has been choreographing a diaspora of Iowa staff with a particular eye to the unique value of caucus expertise; all of her regional field directors in the first caucus states have been dispatched to the others that will follow. Even if an operation led by Mook and Marshall will not be blindsided at a caucus, do they have the assets to win one?