T-Mobile Predicts Up to 3.4 Million New Users; Profit Rises
by
Subscriber gains top 1 million for sixth straight quarter

Fourth-quarter sales, earnings exceed analysts' estimates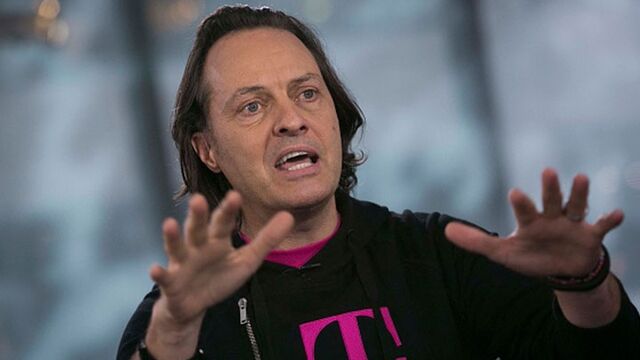 T-Mobile US Inc. reported rising profit and predicted as many as 3.4 million new subscribers for this year, as promotions like free video streaming helped the third-largest U.S. wireless carrier post a sixth straight quarter of adding more than 1 million new monthly users.
Fourth-quarter earnings were 34 cents a share, the Bellevue, Washington-based company said in a statement Wednesday. Analysts projected 18 cents, the average of estimates compiled by Bloomberg. Sales rose to $8.25 billion, compared with the $8.2 billion average estimate.
Chief Executive Officer John Legere has been able to lure subscribers from rivals by focusing on feature offers and lower prices at a time when the wireless market has become saturated. One of its popular promotions is Binge On, which lets users watch videos from selected partners without it counting against their data allotment. While it's a tool to continue attracting customers, it has also caught the attention of regulators who oversee net neutrality guidelines that require all traffic to be treated equally.

The company predicted 2.4 million to 3.4 million new subscribers for this year after adding 1.3 million in the fourth quarter. Analysts predict 3.28 million on average.
Full-year adjusted earnings before interest, taxes, depreciation and amortization will be $9.1 billion to $9.7 billion, the company forecast. Analysts estimate $10.1 billion on average.
Fourth-quarter net income was $297 million, compared with $101 million a year earlier. Analysts predicted $134.5 million on average.
Adjusted Ebitda margin rose to 35 percent from 30 percent a year earlier. Five analysts surveyed by Bloomberg projected 31.8 percent on average.
T-Mobile's average phone bill dropped to $48.05 from $48.26 a year earlier, compared with the average $46.42 estimate of the five analysts.
Before it's here, it's on the Bloomberg Terminal.
LEARN MORE