South Carolina's Economic Pragmatism Sets Traps for Ideologues
by and
Clinton and Sanders must navigate intense anti-union climate

Cruz targets goverment giveaways like those that lured Boeing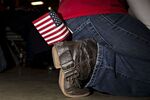 Candidates campaigning in South Carolina's presidential primaries this month must navigate an economic landscape strewn with pitfalls.
With extremes of wealth and poverty, South Carolina lifted its post-industrial fortunes by opposing organized labor favored by Democrats and practicing what Tea Party Republicans call crony capitalism, opening the public wallet to lure big business. The resulting manufacturing renaissance included a 8,100-job Boeing Co. factory in North Charleston, a BMW AG plant that was the birthplace of the Southern auto industry and a flourishing tire industry that followed Michelin & Cie.'s initial investment in the state more than three decades ago.
Candidates of both parties have taken positions in conflict with facts on the ground and must tread lightly, said Lewis Gossett, chief executive officer of the South Carolina Manufacturers Alliance in Columbia.
"If I heard my opponent start saying bad things about crony capitalism, I'd just say 'You, in Greenville, was BMW worth it?" he said. "Was Boeing worth it in Charleston? Was Michelin?"
Democrats Hillary Clinton and Bernie Sanders, jockeying for labor's support, will find themselves in state that's attracted tens of thousands of well-paying manufacturing jobs by boasting of its anti-union climate. Texas Senator Ted Cruz has railed against corporate welfare, though Boeing got as much as $900 million in state and local incentives to expand there in 2009, according to some estimates.
Republicans head to voting booths Saturday as real-estate mogul Donald Trump leads in the polls; Democrats vote one week later. South Carolina can be a make-or-break primary for candidates who struggled in Iowa and New Hampshire. And, unlike those states, South Carolina's electorate is racially and culturally diverse. 
Eight military bases prop up local economies, helping South Carolina rank 22nd in the Bloomberg Economic Evaluation of States since the end of the recession in June 2009. The state's coast and low taxes have lured retirees and transplants, a rich and unpredictable trove of voters.
"You've got retirees from Ohio living in Hilton Head Island, who, you know, may not feel the same on social issues as somebody living in the Upstate," Republican U.S. Representative Mark Sanford of Charleston said Saturday.
Flocking There
The Palmetto State ranks 10th nationally for population gains since the 2010 census. Scott Huffmon, a political science professor at Winthrop University in Rock Hill, said the changing demographics can be jarring.
"I'm sometimes the only person with a Southern accent in the room," he said, particularly when he speaks in places such as Myrtle Beach, the nation's second-fastest-growing metropolitan area in recent years.
Yet South Carolina still teeters on the edge. The share of residents in economic distress is fourth-highest in the nation, according to the Economic Innovation Group, a Washington organization that advocates centrist positions. The state has a lower median household income, higher poverty and a lower share of bachelor's degrees than the national averages, Census Bureau data show.
Charleston resident Rachel Nelson, 35, said she plans to vote for the first time in the coming weeks. She hasn't decided for whom, and her only issue is a higher minimum wage and the right to unionize.
"My kids are smart and I have no way to send them to college," said Nelson, who earns $9 an hour at a fast-food restaurant and is the sole provider for three children. "They haven't had new shoes since August, and I had to put off paying bills to do it then."

South Carolina's economy once was dominated by textile mills that departed in search of cheaper workers, leaving the state moribund and in search of new industry. Then, 20 years ago, BMW located its first U.S. plant between Greenville and Spartanburg. Parts manufacturers and suppliers followed.
What had been a tattered area blossomed into one with a median household income about 9.4 percent above the statewide average. The industry created resilience: While the U.S. battles slow global growth and a strong dollar, South Carolina's factory payrolls show a stronger rebound than the national recovery.
The "good fortune is largely due to an astonishing run of economic development that helped draw thousands of high-paying manufacturing jobs," said a report released Tuesday by Mark Vitner, senior economist for Wells Fargo Securities in Charlotte, North Carolina.
Most of the development came from overseas: Recent data from the International Trade Administration show overseas firms employ 115,900 South Carolinians, or 7.6 percent of the state's private sector workforce, the second-highest share in the U.S., Vitner wrote.
Both Gossett and the state Chamber of Commerce boast that South Carolina is the least unionized workforce in the U.S. The United Auto Workers union covets the plants, and those of other auto manufacturers in Tennessee and Alabama, but has been unable to gain traction. Democratic candidates will face pressure from labor supporters to speak out on the issue, but also will have to consider the prosperity the factories brought.
Pointed Retort
The state's non-unionized workforce also helped bring Boeing to North Charleston, where it builds the 787 Dreamliner jet, bypassing its union factories in Washington state.
The International Association of Machinists tried to organize it last year. Republican Governor Nikki Haley led the opposition, saying that she wore high heels not for fashion, but to kick out unions.
The machinists canceled a vote at the last minute in April. The union said organizers going door to door to drum up support had been threatened at gunpoint.
While the state's anti-union stance may please Republicans, its largess to corporations may not. The manufacturing renaissance benefited from government assistance that runs counter to the limited government Tea Party streak woven into the state's political fabric.
BMW got more than $150 million in infrastructure and training assistance and tax breaks. The price of incentives had soared by the time Boeing's Dreamliner assembly plant came on line in 2011.
Cruz in particular has blasted "corporate welfare" and "cronyism." In a July debate over the Export-Important Bank of the U.S., which boosts foreign trade, he singled out Boeing as a user that didn't need its assistance.
"You know who doesn't have lobbyists?" he asked in a July speech. "A single mom waiting tables."
Karen Martin, 54, a Tea Party leader from Spartanburg who is backing Cruz, said she doesn't think he should pull back on his criticism just because incentives lured jobs. She said he won respect in Iowa when he called for an end to treasured subsidies that helped make the state the biggest producer of the federally mandated corn-based fuel additive ethanol.
"I think that worked really well for him," she said. Cruz beat Trump to win the Iowa caucuses Feb. 1.
Once a supporter of Haley, Martin said she turned against her specifically over the incentives.
"We appreciate the fact that the unions have been kept out, but we would rather have a governor who isn't picking winners and losers," she said.
Gossett, the manufacturers' alliance president, said most residents understand the benefits of South Carolina's strategy. They recognize that unions or a higher minimum wage won't help them as much as the high-paying jobs the state has managed to bring in, he said.
"Those are just artificial things that politicians talk about," Gossett said.
Before it's here, it's on the Bloomberg Terminal.
LEARN MORE