Osborne Advertises for Deputy Governor to Replace BOE's Bailey
by
Successful candidate will head Prudential Regulation Authority

Interviews of short-listed candidates to end by March 18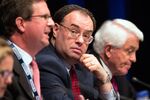 Applicants to replace Andrew Bailey as deputy governor of the Bank of England and head of the Prudential Regulation Authority have until March 4 to let U.K. Chancellor of the Exchequer George Osborne know they want the 267,946-pound ($382,948) a year position.
Bailey's departure leaves vacant the job of transferring bank supervision from the PRA to the new Prudential Regulation Committee, as the BOE brings the function in-house. Bailey was named chief executive officer of the Financial Conduct Authority last month and will take over as the country's top markets regulator by July.
"The new Deputy Governor will take up the post in a time of considerable challenge and uncertainty for the global and domestic economy," according to the job posting on the U.K. Cabinet Office's website. "The new Deputy Governor will help lead the Bank of England through a time of change, as the Bank's internal structure undergoes significant transformation."
Applicants making it to the short list will be interviewed by a panel led by Nicholas Macpherson, the permanent secretary to the Treasury, in London between March 9 and March 18. Anthony Habgood, chairman of the Court of the Bank of England, the central bank's board, John Kingman, second permanent secretary to the Treasury, and Nemat Shafik, the BOE's deputy governor for markets and banking, will also be on the panel, according to documents attached to the posting.
The Treasury is looking for someone with wide previous experience in finance, and with "extensive knowledge and experience of financial markets and the risk cultures therein," according to the posting. "In particular, the new deputy governor will have a key role in ensuring that throughout the coming period the Prudential Regulation Authority maintains and builds on its reputation as a highly credible and effective regulator."
The appointment will be made by the Queen on the advice of the Chancellor and Prime Minister David Cameron, and the successful candidate will be required to attend a hearing before the House of Common's Treasury Committee before starting the job.
The appointment would last five years and can be renewed, and the new executive will be expected to begin work by July 1 or earlier, the posting said.
Before it's here, it's on the Bloomberg Terminal.
LEARN MORE