pursuits
Nike Severs Ties With Pacquiao After Remarks About Gay Couples
By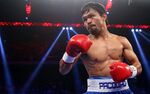 Nike Inc. severed ties with boxing star Manny Pacquiao after he said that condoning same-sex relationships made people "worse than animals."
"We find Manny Pacquiao's comments abhorrent," the sneaker giant said in an e-mailed statement. "Nike strongly opposes discrimination of any kind and has a long history of supporting and standing up for the rights of the LGBT community."
Pacquiao, an eight-time boxing champion, said during his campaign for elected office in his native Philippines that animals don't engage in same-sex relationships and that opposing them is common sense.
After his remarks, Pacquiao apologized, but stood by his opposition to same-sex marriage.
Before it's here, it's on the Bloomberg Terminal.
LEARN MORE