Brussels-Bound Cameron Aims to Seal Months of Talks With EU Deal
by and
Agreement would let prime minister call June referendum

Sticking points include treaty change and welfare cap details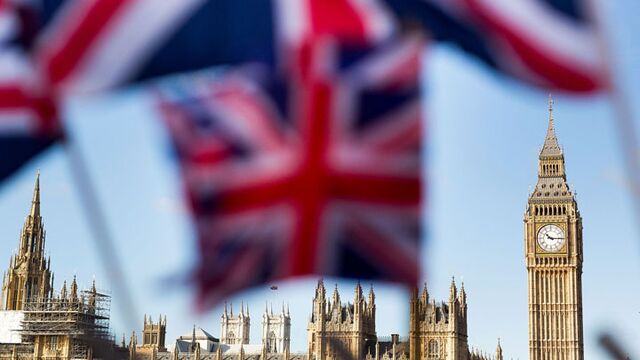 David Cameron heads to Brussels Thursday seeking to finish off months of negotiations on new European Union membership terms with a deal that he can put to the British people. If he succeeds, he'll fire the starting gun on a four-month referendum campaign intended to secure the U.K.'s place inside the bloc.
Since winning re-election last May, Cameron has held at least two face-to-face meetings with every other EU leader. He's visited 20 of the 27 other member states, including two that hadn't had a visit from a British prime minister in six decades and one -- Slovenia -- that had never seen one.

All that diplomacy was aimed at securing EU-wide agreement over the next two days on concessions to British concerns about its relationship with the bloc, so that Cameron can call his promised referendum for June 23, giving those in favor of an unprecedented British exit from the EU the shortest possible time to campaign. But first, he needs agreement at the summit. Late on Wednesday, EU President Donald Tusk warned that this wasn't a certainty.
"After my consultations in the last hours I have to state frankly: There is still no guarantee that we will reach an agreement," Tusk wrote in an invitation letter to leaders posted on the EU Council website. "We differ on some political issues and I am fully aware that it will be difficult to overcome them. Therefore I urge you to remain constructive."
Areas of Disagreement
After meeting with their political parties in the early afternoon, government heads will begin the first summit session at 5:45 p.m. in the Belgian capital, where they'll discuss the EU proposal for the U.K. Over an 8 p.m. working dinner they'll tackle the refugee crisis, after which they could continue working through the evening or call it a night before taking up negotiations again Friday morning.
According to British and European officials speaking on condition of anonymity because the talks are private, there are three main areas of disagreement. First, whether EU treaties will be changed to enshrine the concessions that Cameron has secured. Second, the precise way in which countries such as the U.K. that don't use the euro will be able to raise concerns about decisions made by euro-area countries.
And finally, there's the U.K.'s effort to restrict welfare payments to migrants from elsewhere in the EU. Eastern European countries, whose citizens make up most of these migrants, are concerned that other member nations might be allowed to bring in similar restrictions. They are also arguing that these should only apply to new immigrants, and not to those already in the U.K.
Cameron will meet Tusk on arrival. Over dinner, the premier will present the positive side of British engagement with the EU, offering to deploy two Border Force vessels along with possible helicopter support and police liaison teams in an effort to stem the number of migrants arriving in the EU by boat.
QuickTake Will Britain Leave the EU?
Cameron's Plan
Tusk then plans to meet different EU leaders individually through the night, and Cameron may hold his own meetings, according to one of the officials. The goal is to reach a final deal when the leaders all reconvene on Friday morning. On his ideal timing, Cameron would announce a deal in Brussels around midday, fly back to London, where he would chair a cabinet meeting to secure the support of as many of his ministers as possible, and then stand outside his 10 Downing Street office to announce the referendum in the early evening.
On Wednesday, German Chancellor Angela Merkel threw her political muscle behind the push for a deal. "We Europeans are called upon to do our level best to enable the British government to marshal convincing arguments for the U.K. to stay in the European Union," Merkel said during a speech to the lower house of parliament in Berlin. "Many points here are about wishes which are understandable and that one is entitled to."
Merkel told Christian Democrat lawmakers in Berlin Tuesday that she'll do everything possible to keep the U.K. in the EU, according to a party official who attended the closed-door meeting.
Market Uncertainty
Uncertainty over the U.K.'s future status is already rippling through markets and unsettling businesses. Investor concern over the prospect of the U.K. leaving the EU, a so-called Brexit, pushed the pound last week to its lowest against the euro for more than a year.
Polling on the outcome of the referendum has been inconclusive. While most telephone polls -- like one by Ipsos Mori released on Wednesday -- have shown leads for staying in of more than 10 percentage points, more frequent online surveys have shown the "Leave" camp ahead at times. An ICM online poll also published Wednesday put "Remain" ahead by 43 percent to 39 percent, but with 18 percent of voters still undecided.
Before it's here, it's on the Bloomberg Terminal.
LEARN MORE