Kashkari Says Data Since January FOMC Shown 'Bit More Downside'
by
Minneapolis Fed chief says officials focused on dual mandate

Boosting job market will help lift inflation to 2%, he says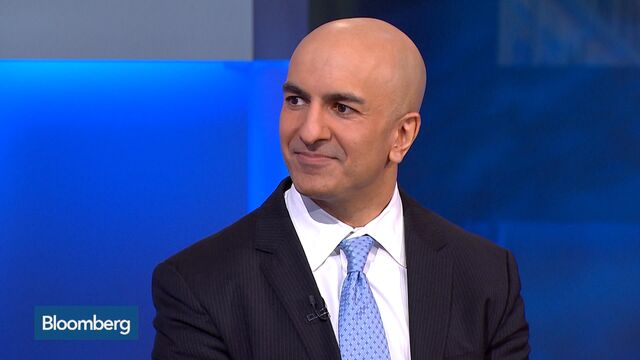 Neel Kashkari, the Federal Reserve Bank of Minneapolis's new president, said the U.S. economy looks softer than expected in recent weeks and policy makers are "laser focused" on reaching their goals of price stability and maximum employment.
"We have to keep driving unemployment down, keep bringing people off the labor force. That's how we're going to get wages up and get inflation back to our 2 percent target," he told Bloomberg Television's Stephanie Ruhle and David Westin in an interview Wednesday. "If we keep making sure we have accommodative monetary policy, we can keep bringing people off the sidelines, bring them back into the labor force."
Kashkari, the former U.S. Treasury official who led the bailout of big U.S. banks during the 2008 crisis, doesn't vote on the Federal Open Market Committee until 2017. He took the helm in Minneapolis on Jan. 1, replacing outspoken policy dove Narayana Kocherlakota.
"There's probably been a little bit more downside" in the data that's come out since the FOMC met in late January, he said in a separate interview with Tom Keene and Michael McKee on Bloomberg Radio.
Financial market turmoil spurred by concerns about Chinese growth has dimmed expectations the Fed will raise interest rates at its meeting next month, following a quarter percentage point hike in December that was its first increase in nearly 10 years.
The Fed published forecasts in December that showed the that median forecast of officials expected four more moves this year. Investors, however, currently see a 6 percent probability they will move at the March 15-16 meeting of the policy-setting Federal Open Market Committee, compared with a 51 percent chance at the end of last year.
"We don't have a specific timing in mind," Kashkari said. "We don't have a formula saying this meeting we're going to raise or that meeting we're not."
Before it's here, it's on the Bloomberg Terminal.
LEARN MORE