Anglo Cut to Junk by Another Firm as Mine Sales Questioned
by
Fitch downgrade follows similar move by Moody's this week

Agency says difficult to sell assets in `buyers' market'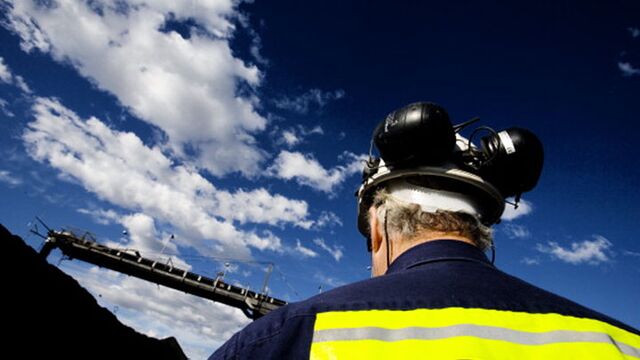 Anglo American Plc's credit assessment was cut to junk by Fitch Ratings, following a similar downgrade by Moody's Investors Service this week, as the ratings company questioned the miner's ability to sell assets in a "buyers' market."
The company's rating was reduced to BB+ with a negative outlook from BBB-, Fitch said in a statement Wednesday. Moody's cut Anglo to Ba3 on Monday, while Standard & Poor's has Anglo at BBB-, its lowest investment grade.
Anglo, which became the first major London-based miner to be rated junk, on Tuesday said it's looking to speed up sales of coal and iron ore assets after losses bled into a fourth year. It's trying to engineer a turnaround by focusing on its best mines that produce diamonds, platinum and copper, and wants to raise $4 billion from sales and cut net debt to less than $10 billion this year.
"The negative outlook primarily reflects the high level of uncertainty regarding the ultimate success of the group's restructuring plan," Fitch said. With several of Anglo's available assets being marginally profitable or making a loss, "this raises the question of whether they will attract a purchase multiple that is acceptable" to management, it said.
'Buyers' Market'
The outlook, which suggests a downgrade is more likely than upgrade, is partly due to a "buyers' market" for assets, Fitch said. The reduced size of the mining group, weak credit metrics and some uncertainty over the planned sales means a BB category rating is necessary, Fitch said.
Goldman Sachs Group Inc. said yesterday that the miner's plan to sell off assets was "ambitious" in such a tough environment. Bank of America Corp. questioned whether the market trusted the management team to execute sales, while Citigroup Inc. said the process was coming too late.
"Failure to sell assets as currently envisaged would result in the current elevated credit metrics being sustained for an extended period and in the absence of other factors would result in negative rating action," Fitch said.
Anglo, founded by Ernest Oppenheimer in 1917 to invest in gold mining in South Africa, lost three-quarters of its market value last year as metal prices sank to a six-year low. Moody's on Monday said Anglo will have a harder time paying down debt given the ongoing slide in raw materials.
The stock rose 7 percent by 12:42 p.m. in London, reaching the highest since November. The shares gained 42 percent this year on speculation that the worst is over.
Before it's here, it's on the Bloomberg Terminal.
LEARN MORE