Fed Frets Corporate Credit Crunch Will Crimp Economic Growth
by
Banks toughen loan terms after six years of mostly easing them

Yellen says banks' credit tightening `bears watching'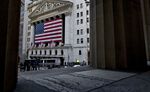 Federal Reserve policy makers are beginning to worry that a corporate-credit squeeze will constrict the economic expansion.
With banks tightening standards on business loans and investors demanding higher yields on some corporate debt, companies may find it harder and more expensive to raise the money they need to grow. The concern is that could prompt them to cut back on spending and hiring, hurting the U.S. economy in the process.

Central bank Chair Janet Yellen flagged the Fed's focus on credit availability for businesses in an appearance before Congress last week. "That is an important factor" in assessing the outlook for the economy and Fed interest-rate policy, she said on Feb. 10. The toughening of credit criteria by banks "is something that bears watching," she added.
As policy makers raised interest rates in December for the first time since 2006, they projected an additional four quarter-percentage-point increases for this year. In presenting the central bank's semi-annual report to lawmakers last week, Yellen suggested that rate rises may be delayed due to turmoil in financial markets.
In making the case against hurrying to boost rates, Boston Fed President Eric Rosengren in a speech Tuesday pointed to "headwinds from abroad that slow exports and financial volatility that raises the cost of funds to many firms."
FOMC Minutes
At the Federal Open Market Committee's meeting last month, some officials pointed to significantly tighter financing conditions for risky and small businesses and tougher lending standards by banks in discussing the outlook, according to the minutes of the gathering released Wednesday.
"The effects of these financial developments, if they were to persist, may be roughly equivalent to those from further firming in monetary policy," the minutes added.
Economists at Credit Suisse Group AG in New York last week pushed back their forecast of the Fed's next rate increase to September from June, in part because of what they described as "hints of tighter business credit."
Tightening Credit
Banks stiffened lending criteria for commercial and industrial loans in the final three months of 2015 for the second straight quarter, the first back-to-back toughening of terms in six years, according to a Fed survey released on Feb. 1. They also tightened terms on commercial real estate credit, Yellen noted.
What's more, banks told the Fed they expect to strengthen standards on business loans and commercial real estate credit in 2016.
Senior loan officers gave a variety of reasons for the stricter stance on commercial and industrial credits, including the uncertain outlook for the economy, troubles in specific industries, particularly energy, and a reduced tolerance for risk.
Wells Fargo & Co., Citigroup Inc. and JPMorgan Chase & Co. have set aside more than $2 billion combined to cover souring energy loans and will add to that safety net if prices remain low, the companies reported last month. Losses are mounting as more oil and natural gas producers default on debt payments and declare bankruptcy. Wells Fargo lost $118 million on its energy portfolio in the fourth quarter and Citigroup lost $75 million.
Losses Projected
"It takes time for losses to emerge, and at current levels we would expect to have higher oil and gas losses in 2016," John Stumpf, Wells Fargo's chairman and chief executive officer, told Wall Street analysts on Jan. 15. Oil back then was trading at around $30 per barrel, about the same as it is now.
The collapse in oil prices also has caused havoc in the corporate-bond market. Yields on the riskiest securities, many of which were issued by smaller energy companies, have skyrocketed.
The fallout hasn't spared more financially-stable companies. The extra premium they're having to pay above the yield on Treasury securities has jumped to 2.2 percentage points, from 1.7 points at the start of the year, according to a Bank of America Merrill Lynch index. Their net borrowing costs though have not risen much, if at all, because the sharp drop in Treasury yields over that same period has made up the difference.
Companies are more vulnerable to stricter loan yardsticks because they've become more dependent on credit to fund growth. The so-called financing gap -- the difference between capital expenditures and internally-generated funds like profits -- has been positive for three straight quarters, the first time that's happened since 2008, according to Fed data.

"This suggests firms' spending plans could be more sensitive to changes in financial conditions than in recent years," Goldman Sachs Group Inc. economist Zach Pandl wrote a in Feb. 10 note to clients.
So far, banks have shown little sign of cutting back on their lending to businesses, with commercial and industrial loans continuing to climb. Corporate bond offerings, meanwhile, have picked up following a week where debt issuance was frozen amid concerns about the health of the global economy.
The availability of credit is a key factor in forecasting business investment and spending on housing, Yellen told the House Financial Services Committee last week. When policy makers meet next month to map out monetary strategy, that is something "we will be considering," she added.
Before it's here, it's on the Bloomberg Terminal.
LEARN MORE