F-35 Fighter Jet Flaws Can Be Overcome, U.S. Marine General Says
Rachel Chang
Operating advantages outweigh deficiencies, says Lt Gen. Davis

Marines first to declare initial operational capacity for jet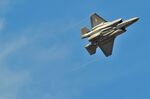 The U.S. military remains confident that any operating flaws in Lockheed Martin Corp.'s F-35 fighter jets -- the costliest U.S. weapons program -- will be rectified, according to a senior Marine Corps officer.
"We are operating the airplane, training in the airplane, making us ready to deploy to the Pacific," Lieutenant General Jon M. Davis, deputy commandant for aviation, said Wednesday in a briefing on the sidelines of the Singapore Air Show. "We have developed workarounds to get around any deficiencies we have seen out there. Right now, operating capabilities and advantage we get from this airplane far outweigh any deficiencies."
The F-35 program has long been the subject of scrutiny for its ballooning costs and production delays. The Marine Corps became the first U.S. military service to declare "initial operational capability" for the jets, despite a spate of highly publicized deficiencies found in tests conducted by the Pentagon. An initial deployment of pilots alongside 10 aircraft will be relocated to Japan starting January 2017, with another six scheduled for July of that year.
Tests of how the F-35 will performin combat won't begin until at least August 2018, a year later than planned, and more than 500 of the fighters may be built before the assessment is complete, according to the Pentagon's test office.
Fuel Flaw
Flaws cited by Michael Gilmore, the U.S. Defense Department's top weapons tester, in his annual report on major programs, include a fuel-system deficiency, cracks in wing spars and a pilot-escape system that could kill ejecting pilots in some circumstances.
Alongside a fleet of F-35s for the U.S., the Defense Department plans hundreds more to be purchased by allies, including Australia, Italy, Japan and the U.K. The Pentagon's proposed $583 billion budget for the coming year includes $10.1 billion for 63 F-35 jets, three less than previously planned.
The U.S. military and contractor Lockheed Martin need as many international orders as possible to drive F-35 production costs down. Davis said that there would be economies of scale from having the U.S. Air Force and international partners involved.  
Speaking on Tuesday in an interview at the air show, the U.S.'s Pacific Air Forces chief, General Lori Robinson, said the deployment of F-35s in Asia would provide opportunities to train with other countries, adding to "our ability together to power-project in the region."
Before it's here, it's on the Bloomberg Terminal.
LEARN MORE