China's Stocks Rise to Three-Week High on Economy-Boosting Steps
Bloomberg News
Policy makers increase infrastructure spending, bank lending

Military-related shares rally on South China Sea tensions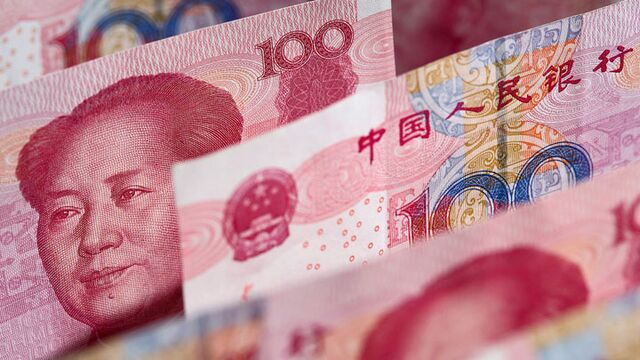 China's stocks rose, sending the benchmark index to the highest level in three weeks, after the government accelerated measures to prevent a deeper slowdown in the world's second-biggest economy.
The Shanghai Composite Index gained 1.1 percent to 2,867.34 at the close, led by industrial and technology companies. The gauge jumped 3.3 percent on Tuesday following data that showed the nation's banks doled out a record amount of loans in January. Defense-related companies rallied amid increased tensions in the South China Sea.
China is stepping up support for the economy by ramping up spending and considering new measures to boost bank lending. The nation's chief planning agency is making more money available to local governments to fund new infrastructure projects, according to people familiar with the matter, while the cabinet has discussed lowering the minimum ratio of provisions that banks must set aside for bad loans. The economy grew by 6.8 percent last quarter, the slowest pace since the global financial crisis.
"The rebound still has some legs as surging loans provide a very loose liquidity environment for the stock market," said Wei Wei, analyst at Huaxi Securities Co. in Shanghai. "It is a technical rebound from extremely low valuations."
The Shanghai Composite has fallen 19 percent this year, the most among global benchmark indexes after Greece and Italy, on concern the slowdown and the yuan's depreciation will exacerbate capital outflows. It is valued at 11.4 times 12-month projected earnings, down from the six-year high of 19 set in June, according to data compiled by Bloomberg.
The CSI 300 Index rose 0.9 percent. Hong Kong's Hang Seng China Enterprises Index slid 1.2 percent, while the Hang Seng Index lost 1 percent.
A measure tracking industrial stocks in the CSI 300 jumped 2 percent for the biggest gain among 10 industry groups. China Communications Construction Co. advanced 7.8 percent and Power Construction Corporation of China Ltd. climbed 4.2 percent.
China's main government organs have vowed to tackle overcapacity, safeguard the asset quality of banks and limit loans to "zombie" companies, according to a joint statement issued Tuesday by agencies including the People's Bank of China, the National Development and Reform Commission and the Ministry of Finance.
While the jump in credit growth may help sustain the pace of economic momentum in the short term, it's also "storing up big problems," said George Magnus, a senior independent economic adviser to UBS Group AG. The last time banks doled out loans at this pace in 2009, the Shanghai Composite doubled in less than 12 months before embarking on a five-year downward spiral as optimism about stimulus turned into concern excessive credit would worsen overcapacity and boost bad debts.
'Relief Rally'
Chinese banks may have front-loaded loans last month in anticipation of lower interest rates, Hao Hong, Hong Kong-based equity strategist at Bocom International Holdings Co., wrote in a report. This "relief rally" for stocks may not be sustainable as the performance of bank and property shares may already be peaking, he said.
Searainbow Holding Corp. led gains for technology companies, surging 10 percent. The company said its controlling shareholder paid back part of its loans using stock as collateral and a brokerage lowered its margin call levels.
Military-related companies rallied. Satellite images showed two batteries of eight HQ-9 surface-to-air missile launchers and a radar system on Woody Island, part of the Paracel chain claimed by China, Vietnam and Taiwan, Fox News reported. Xi'an Tian He Defense Technology Co. gained 3.7 percent. China Spacesat Co. surged 2.8 percent.
The statistics bureau is due to release January data on inflation Thursday. Consumer prices probably rose 1.9 percent from a year earlier, accelerating from a 1.6 percent increase in December, according to the median estimate of a Bloomberg survey.
— With assistance by Shidong Zhang
Before it's here, it's on the Bloomberg Terminal.
LEARN MORE