`Brexit' Jetset Plots Split With EU From Homes in France's South
by
Vote Leave Chairman Lawson commutes from Gascony to campaign

Leave.EU spokesman lives between Toulouse and Edinburgh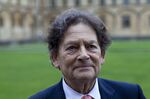 Former Chancellor Nigel Lawson is pushing to take the U.K. out of the European Union. If he succeeds, he'll still have a home in the EU when most British voters are adapting to life outside the bloc.
Lawson, chairman of the Vote Leave movement, spends much of his time at his house in southwest France, even as he works to sever Britain's ties with the rest of the EU. He's not the only one playing a leading role in the "out" campaign while hedging his bets on a personal level.
Brian Monteith, the former Scottish lawmaker who heads Leave.EU's press office, splits his time between southwest France and Edinburgh. The group's co-chairman Arron Banks has helped fund the U.K. Independence Party while domiciling some of his business interests in Gibraltar, according to company records.
Leave.EU describes itself as "Britain's fastest-growing grassroots movement" on its website.
"It's a bizarre situation, and may be harmless for now because the campaign hasn't started," said Steve Fielding, professor of politics at Nottingham University. "But if these people continue to take a front seat they're in trouble, as it will be difficult to present a very populist case to the rest of Britain."
QuickTake Will Britain Leave the EU?
In a campaign dominated by theater and emotion more than policy analysis, the lifestyle choices of those leading the push to abandon the EU leaves their campaign vulnerable to charges of hypocrisy from potential supporters.
Leave.EU spokesman Jack Montgomery says his group still wants Britain to engage with the rest of the world, but to do so on its own terms.
"It's a misconception that euro-skeptics want to leave the EU so they can pull up the drawbridge and retreat into splendid isolation," Montgomery said when asked for comment on Monteith and Banks's interests outside the U.K.
A spokesman for Lawson's Vote Leave group said the former Conservative minister is still officially a U.K. resident and declined to comment further. In the past, Lawson has cited his house in France as evidence that he's not anti-European, just opposed to a European Union "way past its sell-by date."
Class Politics
With the referendum possibly slated for June, "out" campaigners may have only four months to convince voters who are more concerned about immigration and the state of the economy than the U.K.'s EU membership, according to polls. The "in" campaign still led by 8 percentage points this week in a telephone poll of 1,105 people by ComRes, though the lead was down from 19 percentage points in a similar poll last month.
To reverse the remaining deficit, campaigners like Lawson and Monteith will need to navigate the turbulent waters of the British class system which can prove treacherous for politicians seen as standing apart from ordinary voters. Labour Party defense spokeswoman Emily Thornberry was forced to quit her job as legal-affairs spokeswoman in 2014 after posting a picture on Twitter that was perceived as mocking working-class voters.
While UKIP secured some 4 million ballots in last May's election, the "out" campaign's chances of assembling a majority of voters could be hurt if its leaders are seen as living apart from the man-on-the-street.
"There's a danger these plutocrats could be seen as being detached from the real interest of ordinary British people," Fielding said.
French Retreat
Lawson's attachment to Gascony, near France's Atlantic coast, is such that in 2010 he was inducted into the "Compagnie des Mousquetaires d'Armagnac," a ceremonial body promoting the Gascon way of life and the local brandy of the same name.
That association offers the "in" campaign lines of attack.
"It's easier to criticize Britain from a mansion in France than it is to propose a specific trading model for Britain to have with the rest of Europe if we left the EU," said James McGrory, chief spokesman for Stronger In, the campaign to keep Britain in the bloc.
Monteith, who lives in the same area as Lawson's French home, laughs off the criticism.
"It's Scotland with sun," he explained at a lunch with reporters this month.
Before it's here, it's on the Bloomberg Terminal.
LEARN MORE