Bombardier's Win for C Series Is Too Late to Save 7,000 Jobs
by
Air Canada signs a letter of intent to buy at least 45 jets

Planemaker's 2016 sales forecast falls short of estimates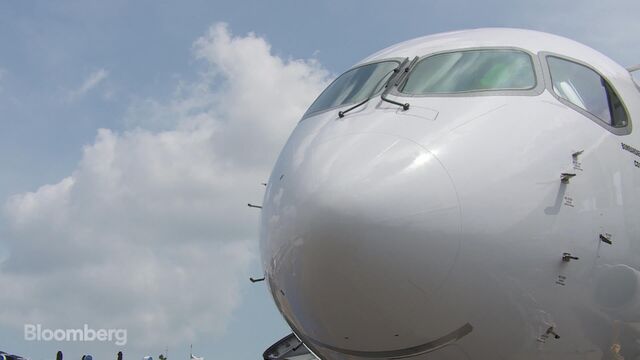 Bombardier Inc. won a crucial order for its new C Series jet from Air Canada, though it wasn't enough to prevent the struggling manufacturer of planes and trains from cutting 7,000 jobs as profit missed analysts' estimates.
Air Canada signed a letter of intent -- not a firm order -- to purchase 45 aircraft with a list value of about $3.8 billion, the first commitment from a major North American carrier. Bombardier surged 21 percent to C$1.09 in Toronto, its biggest gain in five months.

Lining up a fresh buyer is a milestone for Montreal-based Bombardier, which has been draining cash after repeated development delays for its largest-ever aircraft. Quebec's government agreed in October to a $1 billion investment in a program that has yet to live up to Bombardier's projections as a pillar of revenue growth. The 7,000 job cuts, from a workforce of 70,900 at the end of last year, will occur during the next two years, the company said.
The deal with Air Canada "could represent a strong commitment for the long-term viability of the C Series," Benoit Poirier, an analyst at Desjardins Capital Markets, said in a note to clients.
Deliveries to Canada's largest airline are scheduled to begin in late 2019 and extend to 2022, and Air Canada has an option to purchase an additional 30 C Series aircraft, the carrier said in a statement. The list price doesn't include discounts that are customary for airlines buying planes.
Canada Financing
Chief Executive Officer Alain Bellemare, installed a year ago with a mandate to restore profitability, is working to overcome cost overruns and delays on the $5.4 billion C Series aircraft program. Having reached deals to raise $2.5 billion in the fourth quarter, Bellemare is now attempting to secure additional financing from Canada's federal government.
The Canadian government reiterated Wednesday that Bombardier plays a "major" role in the country's aerospace industry and that it continues to review Bombardier's request for aid.
The job reductions will result in restructuring charges of as much as $300 million, Bombardier said Wednesday. The cuts will mostly target positions in Canada and Europe and will be partly offset by hiring in growth areas such as the C Series, the company said.
About 3,200 jobs will be eliminated in the rail unit, 2,500 in aerostructures and engineering services, 800 in aerospace product development engineering and about 500 in business aircraft.
Wednesday's announcement marks the third round of cutbacks at Bombardier in about a year. The company unveiled plans last year to cut about 2,400 jobs in its business-jet unit as it slowed production of the Global 5000 and 6000 aircraft and canceled the Learjet 85.
Revenue Forecast
Sales this year will fall to $16.5 billion to $17.5 billion, the company said, less than the $18.2 billion projected by analysts. Earnings before interest, taxes and special items will be between $200 million and $400 million with negative cash flow of $1 billion to $1.3 billion, Bombardier said.
Fourth-quarter profit fell as the company broke even on a per-share basis, Bombardier said Wednesday, less than the 2-cent average of 15 analyst estimates compiled by Bloomberg. Revenue dropped 16 percent $5.02 billion, trailing the $5.51 billion average forecast.
Bombardier will consolidate its shares via a reverse stock split aimed at lessening the prospect of being excluded from the Toronto Stock Exchange's benchmark index. To remain in the S&P/TSX index after each quarterly review, a stock must have an average price of at least C$1 for the previous three months, Tony North, senior manager of equity markets for S&P Dow Jones Indices, said last month. Bombardier's Class B stock closed below C$1 for 13 consecutive sessions through Tuesday.
After consolidation, the shares will be priced between C$10 and C$20 each, the company said.
Tumbling Shares
Following a 68 percent plunge in 2015, Bombardier's Class B stock tumbled 33 percent this year through Tuesday amid concern over the fate of the C Series program. Bombardier last week fell to the lowest since May 1989 in Toronto trading.
Since Bellemare's arrival at the helm, Bombardier has focused sales efforts on adding established airlines to a C Series order book dominated by lessors and small carriers. Until Air Canada converts its letter of intent for CS300 planes into a firm order, Deutsche Lufthansa AG remains the only firm buyer of C Series jets ranked among the world's top 20 airlines by passenger traffic.
The C Series is trying to crack the Boeing Co.-Airbus Group SE duopoly in single-aisle airliners. The jet can seat 108 to 160 people, a step up in size from Bombardier's signature regional jets.
Firm Orders
Bombardier's last firm order for the C Series dates to September 2014, when a unit of Australia's Macquarie Group Ltd. agreed to buy 40 of the jets. Flymojo, a Malaysian startup, signed a letter of intent for at least 20 units of the CS100 model in March 2015.
The planemaker's latest C Series agreement "will create significant value for Air Canada and its customers and will become a catalyst for future orders in North America and around the world," Bellemare said in a statement.
(An earlier version of this article corrected the workforce number in the third paragraph.)
Before it's here, it's on the Bloomberg Terminal.
LEARN MORE