Turkey Blames Kurd Groups for Bomb, Urges U.S. to Cut Ties
by and
Erdogan, Davutoglu say PKK, PYD combined to attack Ankara

PYD is backed by the U.S. as partner in Islamic State fight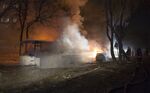 Turkey's leaders blamed two Kurdish groups for a bombing in the capital that killed 28 people, including one backed by the U.S. as a major ally in the fight against Islamic State in Syria.
Speaking in Ankara the day after a car bomb blasted through a military bus, Prime Minister Ahmet Davutoglu said the attack was carried out by separatists from the Turkey-based Kurdistan Workers' Party in coordination with the armed wing of the U.S.-backed Democratic Union Party in Syria, or PYD.
"We can't excuse any NATO ally, including the U.S." of having "links with a terrorist organization that strikes us in the heart of Turkey," Davutoglu said in a televised speech. President Recep Tayyip Erdogan said Turkey's allies ought to recognize the strong ties between the two Kurdish groups.
Involvement Denied
While a senior PKK commandersaid the bombing may have been a Kurdish "retaliation" for Turkish military attacks, Sky News Arabia cited the head of the PYD, Salih Muslim, as denying his group's involvement. Recent attacks in Turkey, including the twin bombs that killed 102 people in Ankara in October, have been blamed on Islamic State militants.
Hours after Wednesday's bombing, six soldiers were killed in a second attack on a military vehicle in the southeast.
Turkey's allegation of Kurdish involvement comes at a volatile moment in its relations with the U.S. and Russia, which are squaring off on opposing sides of the Syrian conflict. While Turkey and the U.S. share the same goal of removing Syrian President Bashar al-Assad and are supporting rebel forces, their alliance has been badly strained by U.S. support for Kurdish fighters whose separatist ambitions threaten Turkish integrity. 
Kurdish Gains
At the same time, Russian air force backing for Assad, with help from the Kurds, has turned the tide in the Syrian military's favor. That's created a dangerous flashpoint between Moscow and Ankara that could erupt into a direct clash as the Syrian Kurdish forces capture territory near the Turkish frontier.  
Recent Kurdish advances in Syria pose a twofold threat to Erdogan's government: They could cut a supply route for the Turkish-backed rebels in Aleppo, while cementing Kurdish self-rule just across the border in Syria, fueling similar aspirations among Turkey's own Kurdish minority.
Before dawn Thursday, Turkey's state news agency Anadolu reported that Kurdish PYD fighters began attacking the northern city of Azaz, defying Turkey's threat to respond "fiercely" if they approached it. Turkey kept up its artillery assault on the group around the city, Anadolu said.
The U.S. State Department condemned the attack in the capital, as did German Chancellor Angela Merkel in a phone call with Erdogan. Merkel "pledged to the Turkish prime minister as well as the president that Germany would stand by Turkey in solidarity in the fight against terrorism," according to her chief spokesman, Steffen Seibert.
But Davutoglu said such statements were no longer enough. "We thank them for their messages of solidarity, but solidarity with Turkey shouldn't just consist of words," he said.
Davutoglu promised to share all information connecting the bomber to PKK and PYD with allies, and on Thursday, the Foreign Ministry invited ambassadors of the United Nation Security Council's permanent member states to a meeting in Ankara, according to NTV television.
Before it's here, it's on the Bloomberg Terminal.
LEARN MORE