Airbus Wins $1.8 Billion Commitment From Philippine Airlines
by
Order is for six A350-900s with options to purchase six more

The two companies announce plane order at Singapore Airshow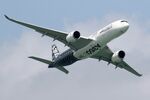 Airbus Group SE secured an order from Philippine Airlines Inc. valued at $1.8 billion as the Southeast Asian carrier seeks to fly to New York and the U.S. West coast.
Closely held Philippine Air will take delivery of the A350-900s in two years and the aircraft are meant to replace older A340 models, Jaime Bautista, president of the carrier, said at the Singapore Airshow Wednesday. The agreement with Airbus includes an option to purchase six more of Airbus's latest widebody jet. The order value is based on the $308 million list price of the aircraft, before discounts that are customary in the industry.
Airbus, Boeing Co., Mitsubishi Aircraft Corp. and ATR have announced orders totaling $4.2 billion this week at the Singapore Airshow amid concern that a two-year, multi-billion-dollar order spree by Asian carriers is losing steam. Chicago-based Boeing Wednesday announced a $1.3 billion order with China's Okay Air.
The two days of orders at the airshow come amid speculation the heyday of giant orders from India and Southeast Asian nations is ending, and that airlines in the region might have to delay delivery of planes as economic growth slows.
---

From plush private jets to the latest military aircrafts
---
On Sunday, International Air Transport Association President Tony Tyler said Southeast Asian airlines may defer plane orders as they battle overcapacity and intense competition among half a dozen low-fare carriers.
Budget airlines in the region have garnered 54 percent market share, more than twice the global average, Tyler said.
Philippine Air was debating between Airbus's A350 and Boeing's 787 Dreamliner, Bautista said last year.
Before it's here, it's on the Bloomberg Terminal.
LEARN MORE