After Zenefits, Will VCs Rein in Their Unicorns?
The $4.5 billion benefits startup moved fast and broke things—maybe even the law.
By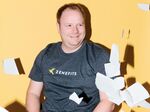 In a Feb. 1 meeting at its blandly luxurious Sand Hill Road offices, venture firm Andreessen Horowitz urged the chief executive officer of one of its most prized and promising companies to resign.
Zenefits makes software designed to simplify and automate such HR tasks as health insurance signups. At three years old, it's valued at $4.5 billion and is one of the fastest-growing business software companies ever. Under founding CEO Parker Conrad, it also made software that allowed its employees to skirt state regulatory requirements, the company now admits.
Days after Chief Operating Officer David Sacks gave that information to Lars Dalgaard, an Andreessen partner who sits on Zenefits' board, Conrad was out, say three people familiar with the matter. At Conrad's suggestion, they replaced him with Sacks, a Silicon Valley fixture who's worked at Microsoft and co-founded Yammer, the business chat company.
In Zenefits' early days, the people say, Conrad created a deceptive program called "the Macro," which made it look like employees were watching legally mandated online training when they weren't. Workers who claimed to have completed the training may have been well short of the required 52 hours. Conrad used it himself, the people say.
California regulators are investigating Zenefits' use of the Macro, as well as whether its employees had licenses when they started selling insurance. On Feb. 8, Sacks announced Conrad's resignation in an internal e-mail. "For us, compliance is like oxygen. Without it, we die," Sacks wrote. "Many of our internal processes, controls, and actions around compliance have been inadequate, and some decisions have just been plain wrong. As a result, Parker has resigned." Conrad declined to comment.
Among other things, the episode marks something of a reversal of philosophy for Andreessen, which since its 2009 inception has pitched itself to startup founders as a venture firm that provides guidance without getting overly involved. "Most of the great companies in our industry were run by a founder for a long period of time, often decades, and we believe that pattern will continue," Marc Andreessen wrote in a blog post when the firm began. Zenefits was one of Andreessen Horowitz's biggest investments—the firm owns 25 percent—and its ouster of Conrad is a sign that with the startup market beginning to cool, Silicon Valley investors are growing more hands-on.
"For the last few years, valuations often became detached from the underlying fundamentals," says Anand Sanwal, CEO of researcher CB Insights. "In the current climate, investors are starting to think about old-fashioned things like cash flow."
Like a digital health insurance broker, Zenefits gives its software away and makes money by charging insurers a fee when companies use it to pick their plans. In 2013 and 2014, the company generated a grand total of about $8 million in actual revenue, according to previously undisclosed fundraising documents, and ended 2014 with annual recurring revenue of $20 million. It's growing quickly, having topped $60 million in annual recurring revenue by the end of last year, but it's missed revenue targets, say two people familiar with its finances.
Zenefits has struggled to hire a lot of good salespeople quickly and to keep companies using its software once they have big HR departments. It's also suffered from internal turnover. Some salespeople who joined from Yelp returned to the reviews site within months, says a person familiar with the matter.
Zenefits' financial issues were discussed during the Feb. 1 board meeting. Andreessen co-founder Ben Horowitz, who isn't a Zenefits director, attended. But two people close to the post-Conrad Zenefits say the Macro, not sales misses, was responsible for the CEO's resignation.
At the meeting, Conrad tentatively agreed to resign, relinquish his board seat, and make Sacks CEO, say three people close to the company. People close to Conrad now say he's agitated by how Sacks's very public letters to employees have characterized his departure and blamed him for Zenefits' compliance problems.
The accusations that unlicensed Zenefits brokers were selling insurance became public on Nov. 25 when BuzzFeed reporter Will Alden began publishing articles on the matter. California and Washington state are investigating Zenefits' sales. The company says it's cooperating with those probes and conducting its own, and it's hired PricewaterhouseCoopers for a third-party assessment. Sacks declined to comment.
Two people close to Sacks say he first began to worry about the Macro's possible criminal implications in late January, after receiving new information from the internal investigation. To verify that an insurance sales applicant has completed the 52 hours of training, California requires a signature that carries a perjury charge if violated.
"The recent resignation of Zenefits' CEO Parker Conrad is an important development, but it does not resolve our ongoing investigation of Zenefits' business practices and their compliance with California law and regulations," the California Department of Insurance said in a statement.
While Andreessen has seen strong returns from investments like Oculus VR, some of its big picks have stumbled, including Jawbone, a maker of fitness-tracking equipment, and Quirky, which runs a social network dedicated to invention. Andreessen is raising money for a new venture fund, says a person familiar with the matter. (Bloomberg LP, which owns Bloomberg Businessweek, is an investor in Andreessen Horowitz.)
As even the hottest startups begin to worry about showing results, Andreessen remains comfortable with its bet on HR software, according to Dalgaard. The board just added three high-profile investors, including PayPal founder Peter Thiel. "Zenefits has had compliance issues and we have taken strong action," Dalgaard said in an e-mailed statement. "We are very happy to be the largest investor in Zenefits." Not so happy, though, that Andreessen would let the company keep policing itself.
The bottom line: Zenefits is struggling to recover from a regulatory scandal that led the HR software company's primary backer to push for the ouster of its CEO.
Before it's here, it's on the Bloomberg Terminal.
LEARN MORE