Ukraine Gridlock Prolonged as Bid to Oust Premier Fails
by and
Confidence vote can't be repeated in this parliament sitting

President Poroshenko earlier urged Yatsenyuk to step down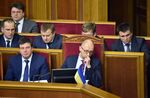 Ukraine headed for a standoff between its two most powerful politicians after Prime Minister Arseniy Yatsenyuk defied President Petro Poroshenko's call for his resignation and defeated a no-confidence motion in parliament.
The result threatens to conserve political gridlock that's jeopardizing the economy and billions of dollars of foreign aid. The motion to remove Yatsenyuk can't be repeated during the current sitting of parliament, which ends in July. While Tuesday's vote failed, it "demonstrated that this government already has no parliament support, it will not be able to carry out laws," said Yuriy Lutsenko, the parliamentary head of Poroshenko's party.
Ukrainians and the nation's foreign backers are losing patience with delays in fighting corruption and modernizing the economy amid a recession and a pro-Russian insurgency that's killed 9,000 people. Two top reformers quit this month, alleging graft within the ruling coalition. The president and his team swept to power after a popular uprising and promised to bring European levels of transparency to the ex-Soviet republic after decades of misrule. They now also have to contend with a deepening conflict within the government.
"Given the poor track-record, we still see significant risk from the political story in Ukraine," Dmitry Polevoy, chief economist for Russia and CIS at ING Groep NV in Moscow, said by e-mail. "The process clearly needs to be streamlined for the country to resume inflows of external funding from the IMF and other official creditors necessary for a sustainable economic recovery and overall financial stability."
Poroshenko earlier called for a "complete government reboot" to end political turmoil and urged the formation of a technocratic cabinet. That drive ended when the no-confidence motion, co-authored by Lutsenko, garnered 194 votes, short of the 226 needed to oust the 41-year-old Yatsenyuk. Parliament Speaker Volodymyr Hroisman closed the session immediately after the vote. The result means the risk of early elections was averted.
Ukrainian government bonds had pared losses after Poroshenko's comments, when he also sought the removal of Prosecutor-General Viktor Shokin. Shokin later in the day submitted his resignation, Mustafa Nayem, a member of the presidential party, said on Twitter. The yield on notes due 2019 climbed fell 15 basis points to 10.98 percent early Wednesday after jumping as high as 11.65 percent the previous day.

Yields surged last week as International Monetary Fund Managing Director Christine Lagarde warned the nation's bailout may be halted by political infighting. A $1.7 billion disbursement from the Washington-based lender has been delayed since last year, holding up other bilateral aid.
The escalating political crisis adds to headwinds for Ukraine. Almost two years after pro-Russian separatists seized swathes of the nation's easternmost regions, a peace accord to resolve the conflict has yet to be implemented. Three Ukrainian soldiers were killed in the past 24 hours, the worst casualties in three months.
The economy also remains fragile as it recovers from an 18-month recession, with the hryvnia losing 10 percent this year. Trade with Russia has been ravaged since the street protests toppled Ukraine's pro-Kremlin leader in 2014. Russia is also threatening legal action over a $3 billion bond that Ukraine defaulted on after restructuring attempts failed.
Poroshenko and Yatsenyuk had previously sought to convey unity after Economy Minister Aivaras Abromavicius and Deputy Prosecutor General Vitaliy Kasko quit amid accusations ruling-party officials were blocking reforms. JPMorgan Chase & Co. and Bank of America raised their recommendations on Ukrainian debt to overweight late last week, saying the market was overplaying the risk of early elections. Franklin Templeton, Ukraine's biggest bondholder, was said to be holding onto its investment.
"Events in parliament last night did not remove uncertainty about the outcome of the ongoing political turbulence due to risks to stability -- or mere existence -- of the parliamentary majority and its ability to cooperate with the government in a sustainable fashion remaining intact," Viktor Luhovyk, an analyst at Kiev-based Dragon Capital said in a note to clients.
It now falls on Poroshenko and Yatsenyuk to get legislation through an increasingly acrimonious parliament. While lawmakers on Tuesday approved a bill to improve procedures for the sale of state assets, a key piece of legislation to access IMF funds, their agenda includes a constitutional amendment to grant regions more power. The latter is one of the provisions of the peace accord signed a year ago in the Belarusian capital of Minsk.

Within the four-party coalition, the Samopomich party and ex-Premier Yulia Tymoshenko's Batkivshchyna group also sought Yatsenyuk's exit. Backing for the premier's People's Front party, parliament's second-biggest after Poroshenko's, has plunged to less than 1 percent.
Samopomich said the no-confidence vote means that lawmakers lost their control over the government, having failed to remove Yatsenyuk even after they earlier rejected his report on the cabinet's performance. The party said on Facebook it would stay away from Wednesday's parliament session.
"Ukraine had a cynical government coup, organized by the president, the prime minister, the kleptocratic part of the coalition and the oligarchs' bloc," Samopomich said in the statement. "All rules of normality were ignored. The process was ruled by deceit, tyranny, dependence on money and full ignorance of people's needs."
Before it's here, it's on the Bloomberg Terminal.
LEARN MORE