Cars
The New, Fastest-Ever Lotus Won't Be Sold in the United States
The Elise Cup 250 is a peppy, lightweight roadster that will set you back about $65,000.
By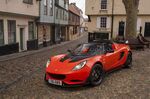 Lotus has just released its fastest road car ever, the Lotus Elise Cup 250.
The Elise Cup 250 gets to 60 miles per hour in 3.9 seconds, with a top speed of 154mph. Those numbers aren't mind-blowing on the level of a Lamborghini or even a Tesla, but they are impressive, considering how amazing you'll feel when you drive it. Behind the wheel, you'll be pushing 243 horsepower on a 2,052-pound machine, 46 pounds lighter than its predecessor and less than half the weight of a Bentley Continental. And with the 184 foot-pounds of torque on that tiny body, you'll feel thisclose to the road as you race. 

But if you're in the United States, don't get too excited. Lotus has a patchy record of selling its cars in North America, and this little four-cylinder is no exception. It goes on sale for £45,600 ($65,200) in the United Kingdom and other major markets in April. It won't be sold in the U.S. 

If you are lucky enough to be able to buy one in, say, Japan, choose the Carbon Aero Pack option, which—combined with the new featherweight Lithium-ion battery, carbon fiber seats, and ultra-lightweight forged alloy wheels—shaves a further 10 kilograms off the car's total weight. (The Aero Pack replaces the standard front splitter, rear wing, rear diffuser and side floor-extensions with carbon components.) 

Underneath it all, Lotus has appointed new sport dampers and calipers with the track-tuned ABS system on those new, 16-inch (front) and 17-inch (rear) alloy wheels. Inside, although Lotus is notorious for its scant interior trimmings, expect to see full Alcantara seats in red or black, with leather as an optional upgrade. Bluetooth connectivity is also available, as are halogen headlights and a choice of 10 paint colors, including a nice, new, subtle gray. Air conditioning and cruise control, among other items typically standard in luxury cars, cost extra. But this is the first time that the Lotus Elise Cup 250 comes standard as a roadster with a hard-top option. 
Intrigued? Be sure you know how to drive a manual; this comes with a 6-speed manual gear box. And be quick about it: Globally, Lotus will make only 200 of them this year.
Before it's here, it's on the Bloomberg Terminal.
LEARN MORE