Sarkozy Quizzed in Funding Probe Over 2012 Bid for Presidency
Gaspard Sebag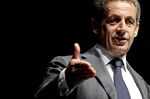 Nicolas Sarkozy was being quizzed Tuesday by investigative judges in Paris as part of a probe into the funding of his 2012 presidential campaign.
The former French president could either be formally charged at the end of the questioning or he may be treated as a material witness in the case, according to Agnes Thibault-Lecuivre, spokeswoman for the Paris prosecutor's office.
Judges are investigating possible improper use of campaign funds as well as kick-backs involving Bygmalion, a communications company hired to organize Sarkozy's rallies during the 2012 election fight.
Sarkozy's spokeswoman Veronique Wache didn't immediately respond to requests for comment. The news was first reported by French daily Le Parisien.
In France, an investigative judge is a magistrate in charge of investigating serious or complex criminal cases. At the end of probes, they can either order the case to go to trial or drop it.