Oil Freeze: Iraq Ready to Cap Output, Iran to Maintain Share
by
Saudi Arabia's Ali Al-Naimi suggests more steps likely

Rosneft says `many questions' still remain on oil-freeze deal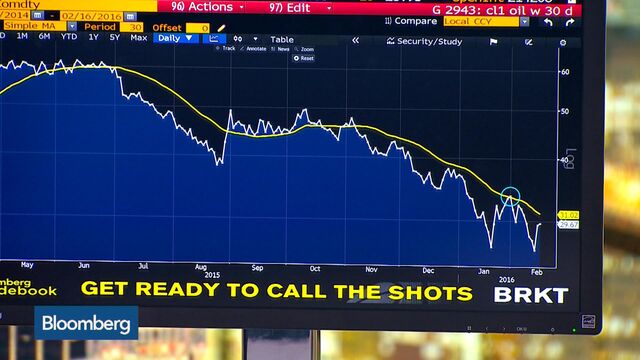 Saudi Arabia and Russia, the world's biggest crude oil producers, joined Venezuela and Qatar in an agreement to freeze output in an effort to revive prices from a 12-year low. Whether the deal succeeds will depend on Iran, Iraq and other large exporters joining in.
 
This is what some of the world's biggest producers said after the deal:
Iran
Iran, unshackled from sanctions last month, "will not forgo its share of the market," Oil Ministry news service Shana reported, citing Oil Minister Bijan Namdar Zanganeh. He will meet his counterparts from Iraq and Venezuela in Tehran on Wednesday.

Iran is the fifth-biggest producer in the Organization of Petroleum Exporting Countries, pumping 2.86 million barrels a day in January. It was producing 3.8 million barrels a day in 2010, before international sanctions were imposed on its exports. Iran plans to increase daily exports by 1 million barrels this year. It expects to achieve its target of increasing it by 500,000 barrels a day by March 20, Shana reported Wednesday, citing Roknoddin Javadi, managing director of National Iranian Oil Co.
Iraq
Iraq, OPEC's second-largest producer, is ready to join Saudi Arabia in freezing, or even cutting, output if other producers commit to the accord, said an official who asked not to be identified because oil policy is private. 
Oil Minister Adel Abdul Mahdi said on Jan. 26 that Saudi Arabia is showing more flexibility on the issue of output cuts. Iraq increased production to 4.37 million barrels a day in January from 2.4 million at the beginning of 2010 as it seeks to rebuild following years of war and under-investment, according to data compiled by Bloomberg.
Kuwait
Kuwait will join the accord and freeze production if major OPEC and non-OPEC producers agree to it, Anas Al-Saleh, the nation's finance minister and acting oil minister, said Tuesday in an e-mailed statement. OPEC's third-biggest producer welcomes the deal as it will help the market and price stability, he said.
The agreement should last at least three months because OPEC needs to understand the market's reaction and give time for stocks to fall before it can consider cutting supplies, a person with direct knowledge of the country's plans said earlier, asking not to be identified.
United Arab Emirates
"U.A.E. oil policy is open to cooperate with all producers toward mutual interest of the market stability," Oil Minister Suhail Al Mazrouei said on Twitter. "We are optimistic on the future."
Oil prices are "not appropriate" for producers around the world, Mazrouei said in an interview with Sky News Arabia posted online Feb. 10. Countries are ready to work together and won't make cuts unless there's complete cooperation, he said. The U.A.E, led by Abu Dhabi, produced 2.97 million barrels a day in January, according to data compiled by Bloomberg.
Saudi Arabia
The deal to freeze output "is simply the beginning of a process to assess in the next few months and decide whether we need other steps to stabilize the market," Saudi Arabian Oil Minister Ali Al-Naimi said after meeting his Russian, Qatari and Venezuelan counterparts in Doha. "We want a stable oil price."
Naimi's comments fed speculation that the world's biggest oil producers could eventually take action to revive prices. The kingdom has so far resisted making any cuts in output to boost prices, arguing that it would simply be losing market share unless its rivals also agreed to reduce supplies.
Qatar
"We will start intensive communication almost straight away with other major producers, OPEC and non-OPEC, including Iran and Iraq," Qatar's Energy Minister Mohammed bin Saleh al-Sada said after the meeting in Doha on Tuesday. Qatar will lead monitoring of the output freeze agreement.
Qatar is among OPEC's smallest oil producers, and is the world's largest liquefied natural gas exporter. Most natural gas contracts are linked to oil prices and a slump in prices affects Qatar's economy. The nation has taken over from Algeria in attempting to broker a deal between the world's biggest oil producers to limit supply.
Venezuela
The Latin American nation is among the worst hit by oil's slump amid concerns the government may default on its debt. The nation has been attempting to get its fellow OPEC members and Russia to cut production for months. Oil Minister Eulogio Del Pino was part of the talks in Doha on Tuesday and will continue his efforts in meetings with officials from Iraq and Iran on Wednesday, he said. 
Russia 
Russia will cap output if other producers join, according to a statement issued by the Russian Energy Ministry. Rosneft OJSC, the country's largest oil producer, still has questions about the deal and its terms, Vice President Mikhail Leontyev said by phone from Moscow. Saudi Arabia and Iran would need to give viable guarantees, he said.
Russia pumped crude at record levels of about 10.9 million barrels a day in January. The country would face technical constraints in cutting production in the winter because of the risk that pipelines would freeze.
Azerbaijan
Azerbaijan has no plans to freeze its oil production, Natiq Abbasov, the country's deputy energy minister, said by e-mail. 
"Azerbaijan isn't a large oil producer, so cutting or freezing output won't change anything," he said. The country produced 794,000 barrels a day of crude in December, according to data compiled by Bloomberg.
Norway
Norway has "registered" that four countries agreed to freeze oil production at January levels but hasn't participated in such talks, Petroleum Ministry spokeswoman Ella Bye Moerland said in an e-mail. The country's oil production is expected to fall in 2016 compared with 2015 anyway, she said.
Brazil
Brazil, Latin America's second-biggest producer, won't participate in discussions with other countries about the oil market, the Energy Ministry said in an e-mail. Brazil is adjusting its oil legislation to attract investments so it can maintain the country's self sufficiency in the long term, the ministry said.
Before it's here, it's on the Bloomberg Terminal.
LEARN MORE