Odd Lots: How a Rural Irish Farmer Became a Top Expert on the Euro Crisis
How to become an expert on central banking from the middle of nowhere.
by and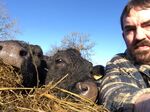 Every week, hosts Tracy Alloway and Joe Weisenthal take you on a not-so-random walk through hot topics in markets, finance, and economics.
This week we talk to one of our own colleagues here at Bloomberg. Lorcan Roche Kelly is a cattle farmer and former explosives engineer in the mining industry who lives in the middle of nowhere in Ireland. During the early years of the euro crisis, Lorcan decided to learn more about the panic that was infecting his country's banking system, and how the banking system was staying afloat despite all the solvency fears.
In this episode, we learn about Lorcan's unusual path, from someone who was tending to cattle to someone who eventually advised hedge funds on their euro-zone sovereign debt trades. We also talk about the latest bout of stress in the European banking system.
Subscribe to the Bloomberg Odd Lots podcast (Pocket Casts) 
Before it's here, it's on the Bloomberg Terminal.
LEARN MORE