NFL's Goodell Made More Than All But 61 Public Company CEOs
by and
Goodell earned $34.1 million in 2014, about the same as 2013

This is the final year NFL must disclose executive pay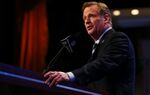 National Football League Commissioner Roger Goodell earned $34.1 million in salary and bonus in 2014, a year in which Ray Rice's high-profile domestic assault case prompted some women's advocacy groups to call for Goodell's ouster.
Goodell, who turns 57 this week, received $3.5 million in base pay, with a $26.5 million bonus deferred from 2013 and other incentives that bring the total to $34.1 million, according to the league's tax filings. His salary has been roughly flat for the last two years: He earned $35 million in 2013 and $35.1 million in 2012 (plus $9.1 million in compensation deferred from 2011).
The 2014 compensation package would put Goodell at No. 62 on the Bloomberg Pay Index, a ranking of the highest-paid executives of publicly traded U.S. companies as of today. No. 61 is Larry Merlo of CVS Health Corp., which had revenue of $153 billion in 2015, more than 10 times the NFL.

This is the last time the NFL will be required to disclose the commissioner's salary and other finances of the league's central office, because it is dropping its tax-exempt status. While largely symbolic, the change is projected to cost the league about $109 million over the next decade. As a benefit, the league is no longer required to disclose financial information, including executive pay.
The NFL is the richest U.S. sports league with annual revenue of more than $12 billion, up from $7 billion when Goodell took over in 2006. The Denver Broncos' 24-10 victory over the Carolina Panthers in this month's Super Bowl drew 111.9 million viewers to CBS Corp., making it the third-most watched program in U.S television history, behind two other Super Bowls.
Among the NFL's other highest-paid executives are General Counsel Jeff Pash, who was paid $7.5 million, the same as in 2013, and Executive Vice President of Business Ventures Eric Grubman, who received $3.9 million, up from $3.8 million in 2013.
Before it's here, it's on the Bloomberg Terminal.
LEARN MORE