Japan's Negative-Yield Bonds Could Cost You as Much as a Rolex
by
100 million yen of five-year bonds will cost about 700,000 yen

Investors face little choice but to pay, BNP's Nakamura says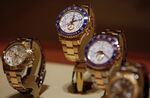 Just how much money does a Japanese banker lose making a 100 million yen ($876,000) investment in a five-year bond and holding it to maturity?
With yields at minus 14.5 basis points Tuesday, the cost of the investment would be about 700,000 yen, or about $6,100. That's enough to buy a Rolex watch, a couple of iMac computers or even cover the average Japanese household's expenditures for a few months.
While the exercise may seem academic, negative interest rates are already affecting Japan's financial industry and markets. The Topix indexof lenders has slumped 18 percent since the Bank of Japan introduced interest rates below zero on some reserves on Jan. 29. Individuals can withdraw their money and keep it at home, though companies will need time to overhaul money management practices they have used for decades.
"For institutional investors, the cost is very high to hold the actual cash," said Naruki Nakamura, the head of fixed income at BNP Paribas Investment Partners Japan in Tokyo. "They need a big safe and also maybe they need a lot of people to guard the safe. They are going to pay the negative interest rate."
Yields can go even further below zero, Nakamura said. He correctly predicted the BOJ would implement the rate cut, though he expected the move in 2015 instead of 2016.
Rolex, iMac
Here are the numbers behind the losses a five-year bond will generate, based on data compiled by Bloomberg as of Tuesday: The purchase price is 101.2 million yen. The cost reflects accrued interest and the fact that the bonds were trading at a premium.
The money manager will get back 100.5 million yen over the term of the investment. The figure consists of the face value received at maturity. It also includes coupon payments received over the coming decade and the interest received from investing them.
What could he or she have purchased with the 700,000 yen lost on the investment? It'd buy a Rolex Submariner model, based on the Jackroad website, which specializes in watches. The amount would more than cover the cost of two 27-inch iMac Retina model at 258,000 yen each. It's double the average monthly living expense for Japanese households, based on government figures.
Fukoku Mutual Life Insurance Co. has suspended its usual practice of using money received from policyholders to buy government debt now that yields are less than zero, said Yoshiyuki Suzuki, the head of the fixed-income department in Tokyo.
"We don't want to pay," he said. "If it's negative, there's a problem."
Before it's here, it's on the Bloomberg Terminal.
LEARN MORE