Harker Says It May Be Prudent for Fed to Pause on Headwinds
by
Philadelphia Fed chief says he doesn't foresee a rate cut

Say negative rates would be `extraordinary move' in the U.S.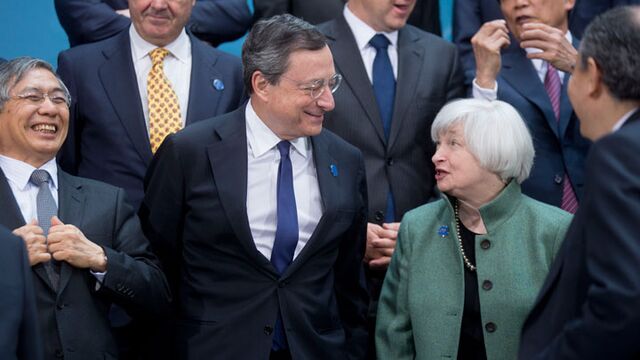 Patrick Harker, president of the Federal Reserve Bank of Philadelphia, said he'd be in favor of delaying further interest-rate increases until inflation recovers from oil-price-induced weakness.
"Although I cannot give you a definitive path for how policy will evolve, it might prove prudent to wait until the inflation data are stronger before we undertake a second rate hike," Harker said Tuesday at an event at the University of Delaware. "Thus, I am approaching near-term policy a bit more cautiously than I did a few months ago. That is part of being data dependent."
When the Fed raised rates for the first time in almost a decade in December, the median estimate of forecasts submitted by policy makers was for four hikes this year. Since then, a financial-market rout spurred by concerns about growth in China has cast doubt over global economic prospects.
Harker, who isn't a voter on the policy-setting Federal Open Market Committee this year, declined to say how many increases he now expected in 2016. But he did say that he wasn't thinking about a rate cut, and also played down the prospect the Fed would follow central banks in Europe and Japan in driving borrowing costs below zero.
"There's a high hurdle that we have to cross before we would enact negative interest rates in this country," he told the audience in response to a question. "It would be an extraordinary move for the U.S. to do that."
Downside Risks
Fed Chair Janet Yellen acknowledged risks to the U.S. economic outlook when she testified in Congress last week and said policy makers were taking another look at the viability of negative rates in the U.S. if the economy was to falter.
The stock-market selloff will offset "some of the economy's fundamental strength, but I do not feel it will overwhelm us," Harker said, adding that while he sees the risks tilted to the downside, he remains upbeat about the outlook as "economic fundamentals are sound, and our financial system is in good shape."
While market turbulence, a strong dollar and weakening growth in China pose risks, "China is not our major trading partner, and it may well be that as the U.S. economy proves its resilience, equity markets are expected to calm down and reverse direction," he said.
Transitory Headwinds
Harker said inflation will return to the Fed's 2 percent target once energy prices stabilize, predicting an annual average pace of headline inflation of 1.5 percent by the second half of this year. While the Philadelphia Fed's Survey of Professional Forecasters doesn't indicate any unanchoring of inflation expectations, he said, Harker noted that market-based measures have eased.
"Hence, it may be worth erring on the side of accommodation to ensure" that consistently below-target inflation won't lead to a lack of credibility, he said.
At the same time, there's anecdotal evidence that companies are planning to raise wages, which could translate into faster inflation. Oil prices may eventually also bolster price growth.
"I believe as we move into the second half of the year with economic activity growing at trend or slightly above trend, the unemployment rate below its natural rate, and price pressures starting to assert themselves, policy can truly normalize," Harker said. "That would not necessarily imply an overly aggressive path for policy."
Before it's here, it's on the Bloomberg Terminal.
LEARN MORE