Goldman Sees Indian Coal Worsening Glut in World Awash in Fuel
by
Lowers price forecasts for thermal coal, liquefied natural gas

Decline in coal demand may be irreversible, analysts write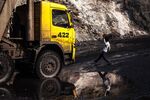 Slumping global coal and liquefied natural gas prices will be under further pressure as rising Indian coal production exacerbates a glut of power-generation fuel, according to Goldman Sachs Group Inc.
The prospect of higher output from India, which is forecast to overtake China as the world's largest importer of thermal coal, will likely cause a 10 percent contraction in seaborne trade of the fuel by 2020, the bank's analysts including Christian Lelong wrote in a report dated Feb. 15. The oversupply of coal and gas and weakening electricity demand prompted Goldman to lower its price forecasts for thermal coal and spot liquefied natural gas in east Asia and Europe for the next three years.
The first LNG shipments from the U.S. expected this year will add to a wave of new supply, while the coal industry is languishing as nations take steps to cut pollution and utilities face pressure to close aging power plants. Spot LNG in Singapore has fallen 22 percent in the past year, assessments from Singapore Exchange Ltd. show, and coal at Australia's port of Newcastle, an Asian benchmark, has tumbled 30 percent over that period, according to data from Globalcoal.
Around the World
"The impact of rising production in Indian coalfields will be felt halfway around the world as newly commissioned LNG facilities in the Gulf of Mexico struggle to compete in a world awash with fuel," the analysts wrote in the report. "Lower coal prices will drag LNG prices down via greater competition in the fuel mix."
Efforts by the Indian government to streamline the process of building new coal mines and opening the industry to private investment should lift production growth rates in the long term, the analysts wrote in the report. Even if the country misses its output targets, production expansion will outpace domestic consumption growth, according to the analysts.
The bank lowered its price outlook for spot LNG in Asia this year by 15 percent to $5.17 per million British thermal units and by 11 percent next year to $4.63 per million Btu. It cut its thermal coal forecast for both this year and next by 12 percent each to $48 and $46 a metric ton, respectively.
Irreversible Decline
The bank also downgraded its long-term coal price outlook to $42.50 a ton.
"Unlike most other commodities, thermal coal is unlikely to experience another period of tightness ever again because investment in new coal-fired generation is becoming less common and the implied decline in long-term demand appears to be irreversible," the analysts wrote.
The collapse in crude prices has narrowed the spread between spot LNG cargoes and shipments purchased through oil-indexed contracts and the appeal of spot deals will increase as oil prices rise toward the end of the year, according to the Goldman analysts.
As Asian LNG prices weaken, buyers may be increasingly tempted to push to renegotiate their supply contracts, Goldman analysts in Australia including Mark Wiseman wrote in a separate report dated Feb. 16.
Before it's here, it's on the Bloomberg Terminal.
LEARN MORE