Gogo Plummets as American Airlines Eyes Competitor ViaSat
by and
Air carrier says Wi-Fi provider can submit alternate proposal

Gogo plans to show it can install new technology on 200 planes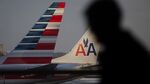 Gogo Inc. plummeted as much as 43 percent after American Airlines Group Inc. told the onboard Wi-Fi provider it may switch to competitor ViaSat Inc. because of its faster and cheaper service.
Gogo fell 32 percent to $9.39 at 12:39 p.m. in New York, after earlier touching $7.90. ViaSat, which provides Internet connectivity services to airlines such as United Continental Holdings and JetBlue Airways Corp., surged 11 percent to $69.34.

American notified Gogo earlier this month that ViaSat's satellite-based system "materially improves" on Gogo's air-to-ground service, and said it was exercising a provision allowing it to terminate the existing contract under those conditions. In a Feb. 12 legal filing, American said Gogo had rejected the notice and is disputing the airline's contractual rights. 
"Providing superior Wi-Fi options to passengers is critical, as American competes for travelers who increasingly demand a Wi-Fi experience in the air that is on par with their wired Internet connections at home or work," American said in the filing. The airline cited a Honeywell International Inc. survey showing 66 percent of passengers say in-flight Wi-Fi influences their flight selection.
Gogo declined to comment on the merits of American's court action in a regulatory filing Tuesday, and said it would submit a competing proposal to install its latest satellite technology on about 200 American planes. Gogo's service has been offered on some of American's flights since 2008.
The competitive service clause isn't included in all of Gogo's contracts for in-flight Wi-Fi, the Internet services company said in an e-mailed statement, without providing specifics.
American filed the legal claim in Texas district court, asking a judge to protect its rights under the contract, said Casey Norton, a spokesman for the Fort Worth, Texas-based airline.
"We continually evaluate in-flight connectivity service to determine what best meets our customers' needs and wants," Norton said. "We've notified Gogo of a competitor's offering, and we will evaluate all of our options."
'Valued Customer'
Gogo said its 2Ku satellite-based service "is the best-performing technology" in the market.
"We would like to note that American is a valued customer of ours and that we look forward to resolving the disagreement regarding contract interpretation that led to this declaratory judgment action," the company said.
ViaSat, based in Carlsbad, California, declined to comment on American, saying only that it's in discussions with airlines about its in-flight service.
The Fort Worth Star-Telegram reported on the legal action against Gogo on Monday.
Before it's here, it's on the Bloomberg Terminal.
LEARN MORE