Fallen Giants Block Path to S&P Bull Market as Amazon Slumps
by
Amazon, Netflix and GM among stocks with losses exceeding 20%

Equity turbulence threatens to worsen the economic outlook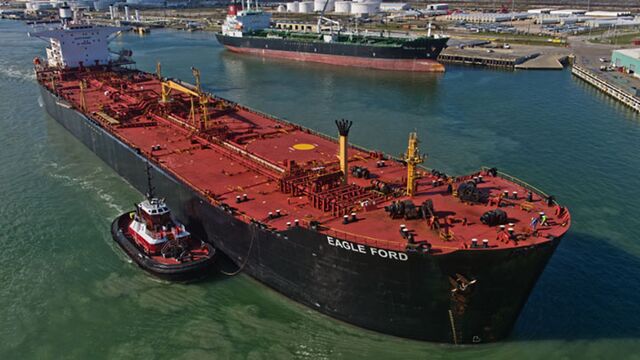 Anyone expecting a quick exit from the first global bear market in four years should take a look at all the money being lost in sectors dear to individual investors.
In a switch from 2015, consumer and technology companies have come to dominate the list of worst-performing American stocks this year, with declines stretching past 20 percent for Amazon.com Inc. and Netflix Inc. Optimism is being squeezed just as the worst start ever for U.S. equities erases about $2.5 trillion from brokerage accounts.

Broadening losses in industries that had previously avoided them is fueling pessimism in a market where gauges of bearish sentiment are already approaching levels from the financial crisis. Declines in global equities reached 20 percent last week for the first time since 2011, falling from their highs of last May.
"The old leadership really got taken out to the woodshed," Chris Bouffard, chief investment officer who oversees about $9 billion at Mutual Fund Store in Overland Park, Kansas, said by phone. "You're going to have to find a replacement for those for the index level and the corresponding sentiment to get back to a healthy place. And that's going to take time."
Weekly Retreat
Stocks fell last week, with the Standard & Poor's 500 Index extending its 2016 retreat to 8.8 percent, as banks around the world suffered losses amid concern negative interest rates will hurt profits. In Investors Intelligence's survey of newsletter writers, the ratio of bulls to bears slipped to 0.63, the lowest level since March 2009.
The S&P 500 rose 0.8 percent at 10:55 a.m. in New York as trading resumed after a holiday.
Consumer discretionary and technology firms account for more than half the 50 S&P 500 stocks with the highest individual ownership, data compiled by Bloomberg show. News Corp., a publisher of the Wall Street Journal and New York Post, is the most popular and the stock is down more than 19 percent this year.
Investors are exiting last year's winners after valuations for consumer stocks reached a five-year high. Amazon.com, which more than doubled in 2015, has slumped 25 percent as the Web retailer reported a fourth-quarter profit that fell short of analysts' estimates. Netflix, up 134 percent last year, is down 24 percent as U.S. subscriber growth slowed at the world's largest paid online TV network.
Housing, Auto
While housing was a bright spot in fourth-quarter gross domestic product, housing shares are suffering. An S&P index of 13 real estate developers including Toll Brothers Inc. and D.R. Horton inc., has lost almost a fifth of its value this year.
Also dropping are automakers. The group is the second-worst performing in the S&P 500 amid concern that sales in the U.S. may be peaking. General Motors Co. has tumbled 19 percent even as the company posted its best January sales in eight years.
"The fundamentals in consumer discretionary look just fine. The problem is the perception that the consumer hasn't gotten better," said David Kelly, chief global strategist of JPMorgan Funds in New York. "When central banks act as if there's a risk of recession, that can dampen consumer attitudes and everybody gets a little more cautious, and the economy underperforms its potential. There's going to be some drag."
Market, Economy
In testimony before the House Financial Services Committee last week, Federal Reserve Chair Janet Yellen addressed the possibility markets might contribute to an economic contraction. Her prepared remarks noted that swings in stocks and currency could "weigh on the outlook for economic activity and the labor market," especially if they last.
As of September, U.S. households had $17.1 trillion invested in shares, or about 35.5 percent of their financial assets, Federal Reserve data compiled by Ned Davis Research Inc. show. That compares with an average of 27.4 percent since 1951.

Rising employment and lower gasoline prices will keep Americans spending, overcoming any negative wealth effect from falling stocks, according to Jim McDonald, the chief investment strategist at Chicago-based Northern Trust Corp., which oversees $875 billion. The economy has added jobs every month since October 2010, driving the unemployment rate to an almost eight-year low of 4.9 percent. Data Friday showed retail sales climbed 0.2 percent in January, exceeding economist estimates.
"Continued jobs growth, along with some benefit from lower oil prices, means that consumer spending durability will continue," McDonald said. "The stock market decline will be some headwinds, but more important are jobs and disposable income, and disposable income goes up when oil prices go down."
Consumer Resilience
Consumer confidence has weakened in the last six months, a stretch in which stocks had two declines exceeding 10 percent. The University of Michigan index of sentiment dropped to an 11-month low in September after reaching an eight-year high earlier last year. Following a brief rebound, the gauge eased again, with Friday's data showing a drop to a four-month low in February.
Visa Inc. and Capital One Financial Corp. fell last week after Bank of America Corp. analyst Kenneth Bruce lowered the recommendations on the consumer finance companies, citing the potential of an economic deceleration and fragile market sentiment.
"The combination drives poor earnings visibility and likely constrained valuation, which we think cannot be ignored," Bruce wrote in a note Thursday. "We are less optimistic that the sell-off will reverse course quickly, given the palpable anxiety that the muted U.S. economic recovery could slow further."
Before it's here, it's on the Bloomberg Terminal.
LEARN MORE