Element Financial Splits Into Two Separate Listed Companies
by
Element splits fleet management and commercial finance units

Divisions will be led by Nullmeyer and Hudson after split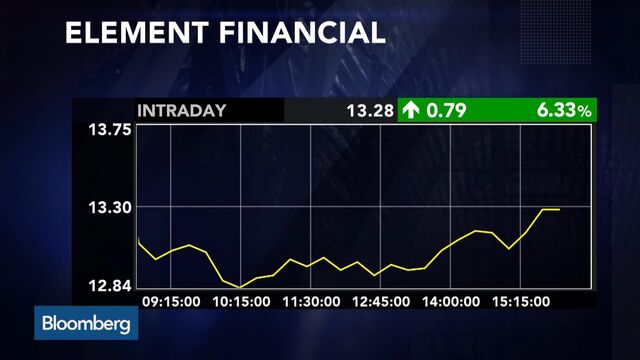 Element Financial Corp., one of North America's largest equipment finance companies, said it will split into two publicly traded firms in a bid to unlock shareholder value. The stock had its biggest gain in three months.
The Toronto-based lender said it will create a fleet management company with C$19.5 billion ($14 billion) in assets under management and a C$7 billion North American commercial finance company. The former will be led by Bradley Nullmeyer, Element's president, and the latter will be led by Steve Hudson, the chief executive officer, according to a statement Tuesday.  
"It produces focused, independent businesses driven by proven executives," Hudson said on a conference call. "Each business will devote 100 percent of its resources without distraction."
Element rose 6.3 percent to C$13.28 in Toronto after the announcement. The stock has fallen more than 20 percent this year, compared with a 3.5 percent decline in the Standard & Poor's/TSX Composite Index.
The fleet management business, which has about 77 percent of its portfolio based in the U.S., will focus on driving increased services, higher fee revenue and integration savings, the company said. It will contain Element's U.S., Canadian, Australian, New Zealand, and Mexican fleet business as well as retaining some of the rail assets.
The commercial finance unit will continue its transition into an asset manager with the participation of its institutional investors. It will hold the U.S. and Canadian commercial and vendor businesses along with the rail and aviation asset-management business.
"Fleet is a rock solid business. It grows at a consistent organic growth rate. I think the inorganic opportunities will be in the asset manager," Hudson said, noting there were significant opportunities both in Canada and south of the border for acquisitions.
"The vendor business, in particular, is at a point of inflection," he said.
Company Review
Element decided to expand its commercial finance business rather than sell it during a corporate review at the insistence of investors, Hudson said.
"You're never going to say you wouldn't sell something," Hudson said. "The market is always available for that. But we believe this structure will create superior value."
The decision to split the company's operations came after a strategic review launched last October and is expected to be completed by end of the third quarter, subject to standard approvals, the company said.
Element has rapidly grown in the past year after the $6.9 billion acquisition of GE Capital's fleet management business last June. That followed the $1.4 billion acquisition of the fleet management services business, PHH Arval, in 2014.
Different Trajectories
Element's rationale for the split is that the current business structure combines operations that have different operating profiles, growth trajectories, leverage and capital requirements. As separate companies, each of these businesses will be able to devote 100 percent of its resources on developing its core business, Element said.
The company said it will discontinue its aviation finance business and reposition it with a sole focus on aviation funds.
Hudson will serve as vice chairman of Element Fleet Management, while Nullmeyer will fill the same role at Element Commercial Asset Management.
BMO Capital Markets, Barclays Capital, and Infor Financial are serving as financial advisers to Element on the process.
Before it's here, it's on the Bloomberg Terminal.
LEARN MORE