Cameron Takes `Brexit' Case to EU's Center as Hollande Digs In
by and
U.K. prime minister meets with European Parliament officials

French finance minister says can't have rules for some only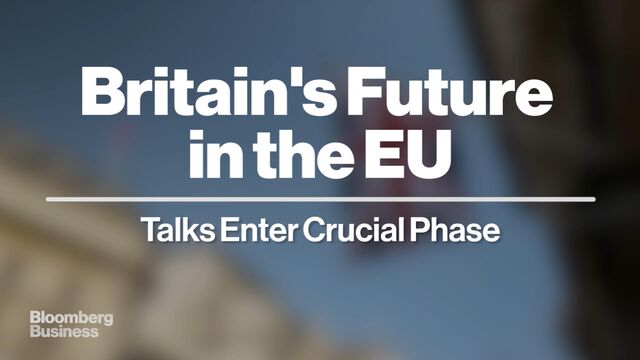 Prime Minister David Cameron took his case for an overhaul of the terms of Britain's membership of the European Union to Brussels Tuesday as the French government digs in its heels over aspects of his reform agenda.
QuickTake Will Britain Leave the EU?
Cameron met with senior European Parliament members including the body's president, Martin Schulz, and the heads of the two biggest caucuses in an effort to win them over before a summit of EU leaders starting Thursday. Schulz said the legislature, which would need to pass certain provisions after a deal, would act "as fast as possible" to find solutions to the issues raised by the U.K.
Cameron headed to the EU's political and administrative nexus as the debate over Britain's future membership in the 28-nation bloc enters a crucial phase that will determine whether the U.K. government calls an in-out referendum as soon as June. He's still got work to do: the prime minister failed to win over President Francois Hollande late Monday, according to a French official, who said their meeting in Paris was constructive but that differences remain.
Convincing France of the case to award Britain further exemptions from euro-area integration for its financial industry has emerged as one of the key obstacles to a deal this week. French Finance Minister Michel Sapin said Tuesday that the euro zone must be free to integrate further regardless of the U.K.'s negotiations.
Trade Risk
"With 28 members we have a single market where products and financial products can circulate freely, without rules for some and rules for others," Sapin said on RMC Radio. "I am very attached to this single market, even for financial services."
With polls suggesting the outcome of the U.K. referendum would be uncertain, a House of Lords committee published a report Tuesday saying that Britain's departure, or "Brexit," would diminish the effectiveness of foreign policy of both the U.K. and the EU.
Brexit would put at risk 466 billion pounds ($670 billion) of U.K. trade with nations in Europe and beyond, according to a separate report, also published Tuesday, by the Centre for Economic and Business Research.
EU Digital Economy Commissioner Guenther Oettinger said he remained sanguine that a compromise deal offered by European Council President Donald Tusk would be accepted by the 28 leaders.
Welfare Payments
"I expect that the member states will approve the latest Tusk proposal and that Germany will support it," Oettinger said in an interview on Tuesday.
Schulz said he had a "constructive" meeting with Cameron and that any deal shouldn't lead to a split between euro-area and non-euro-area nations.
The European Parliament can't block a summit accord but after the referendum it would have to give its endorsement to legislation that would allow the U.K. to restrict welfare payments to non-British workers. With 751 lawmakers, ranging from arch euro-federalists to anti-establishment populists, that won't be automatic.
Once an agreement is made "the European Parliament will take it immediately on board and start the legislative process and try to be as fast as possible and as constructive as necessary," Schulz said. "But I can't give a guarantee for the outcome of a future legislation."
Before it's here, it's on the Bloomberg Terminal.
LEARN MORE