Bond Traders Led Astray by This Can't-Miss Recession Predictor
by
TD, Barclays drop yield curve as Fed policy distorts models

BofA suggests U.S. economy already at risk of contracting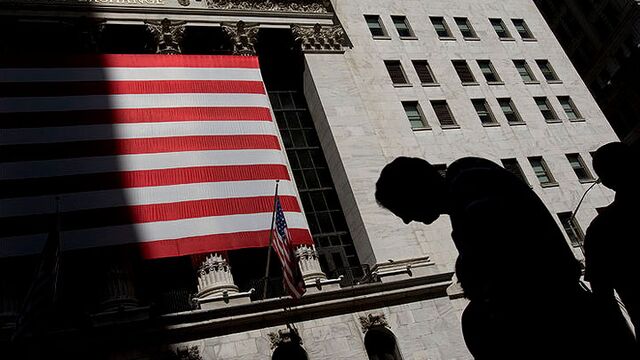 Figuring out whether the U.S. economy was headed for trouble used to be easy: all you had to do was look at the bond market.
Not anymore.
Now, that same market has become so distorted by years of near-zero interest rates that Wall Street's biggest bond dealers are drawing wildly different conclusions as they try to come up with alternatives.

Bank of America Corp.'s model suggests the gap between short- and long-term Treasury yields -- which has predicted every recession in the past half-century -- should already be inverted and puts the chance of a downturn at 64 percent in the next year. Barclays Plc and TD Securities have tossed out the so-called yield curve altogether. The former says its model shows the risk of recession at 20 percent; the latter, about 50 percent.
As turmoil in financial markets deepens and confidence in central banks' ability to support the global economy ebbs, the stakes could hardly be higher. For investors, the big worry is they'll end up flying blind when the next recession hits. And as more and more question the models they've counted on for decades -- at a time when panic is seeping into the markets -- volatility roiling bonds, stocks, currencies and commodities may only get worse.
"We truly are in new territory," said Mark MacQueen, the co-founder of Sage Advisory Services Ltd., which oversees $12 billion from Austin, Texas. "Looking back at the history of the yield curve and comparing it to today is dangerous."
Normally, when longer-term yields are higher than shorter-term yields, it suggests investors see growth in the economy, and as a result, demand extra compensation for the risk that inflation will erode the value of their fixed-rate payments over time.

When that relationship flips (resulting in what's known as an inverted yield curve), it's usually a sign the economy is at risk of contracting. That's happened before each of the past seven recessions dating back to 1970, data compiled by Bloomberg show. On average, downturns start less than a year after the yield curve inverts.
While signs of a weakening global economy have caused yields of 10-year Treasuries to plummet about a half-percentage point to 1.77 percent since the start of the year, they still yield 1.51 percentage points more than three-month T-bills. That's close to the five-decade average of about 1.5 percentage points and well above levels that would typically set off alarms over the state of the U.S. economy.
The same is true for longer-term spreads such as those on the five- and 10-year note relative to the 30-year bond, which are both greater than their historical averages.
Yet to a growing number of investors and analysts, the bond market is providing a false sense of security, particularly because short-term rates are artificially low. A big reason has to do with the Federal Reserve suppressing interest rates for so long now, which has pinned short-term market rates close to zero. Since the end of 2008, rates on three-month bills have averaged less than 0.1 percent.

Hundreds of billions of dollars in Treasury purchases by foreign central banks, as well as post-crisis regulations to prevent runs on money-market funds, have also helped to suppress short-term yields.
When financial markets were rising, the distortions were easy to ignore. Ultra-low borrowing costs -- which the Fed's unprecedented bond buying also helped to support -- bolstered the economy, helping consumers get back on their feet and encouraging investors to finance business expansion. Now, those same distortions may be making things worse by enabling too much risk-taking in recent years.
In the past week alone, global equities fell into a bear market, oil prices tumbled to a 12-year low and the cost for U.S. junk-rated energy companies to borrow in the bond market exceeded 20 percent for the first time on record.
The situation with the yield curve "has brought another level of complexity and risk that investors have to try to deal with," said Thomas Atteberry, a money manager in Los Angeles for First Pacific Advisors Inc., which has $6.3 billion in fixed-income assets. "It has had an impact on the traditional way of looking at economic activity and risk levels."

Bank of America's Ruslan Bikbov corrects the distortion by using overnight index swaps instead. Based on the latest figures from the strategist's model, long-term rates are 0.3 percentage point below short-term rates. That suggests a recession is now firmly on the horizon, after the U.S. economy slowed to a crawl at the end of 2015.
Some Wall Street prognosticators are turning to different indicators to gauge the health of the U.S. economy.
Priya Misra, TD's head of global interest-rates strategy, uses the market's outlook for inflation, Fed rates and an index of financial conditions. With inflation expectations five years into the future at an all-time low and the odds of a rate cut this year surpassing those for an increase last week, she isn't optimistic.
"The rates market and financial conditions broadly are giving you signals of a recession," said Misra.
It also adds to concern that central banks around the world may be losing credibility in their efforts to shore up growth as more policy makers push benchmark rates below zero.

Fed Chair Janet Yellen said last week the turbulence in the markets had "significantly" tightened financial conditions and may prompt the central bank to delay further rate increases. She also said the Fed was taking another look at negative rates as a potential tool if the U.S. economy faltered.
Barclays suggests the more pessimistic models may be overstating the risks. While the firm acknowledges the yield curve isn't very useful anymore, its own calculations spit out a far less dire forecast than either Bank of America or TD.
That model, which relies on changes in the labor market and uses currency fluctuations, equity prices and junk bond yields to gauge financial stress, indicates there's only a one in five chance the U.S. enters a recession in the coming year, according to Robert Martin, senior U.S. economist at Barclays.
Not everyone is casting aside the yield curve.
Goldman Sachs Group Inc. uses the measure as one of six factors in its recession model, which puts the chances of a downturn at just 18 percent. The latest economic data released last week supports that view. Jobless claims dropped to an almost two-month low, while retail sales increased for a third straight month in January.

The yield curve "still tells generally the correct story," said Jeff Caughron, the chief operating officer at Baker Group LP, which advises community banks with more than $45 billion in investments.
Whatever the outcome, questions over how reliable the yield curve actually is have only made it harder to navigate the increasingly topsy-turvy financial markets.
"We're not in normal times," said Gary Pollack, who manages $12 billion as the head of fixed-income trading at Deutsche Bank AG's Private Wealth Management unit in New York.
Before it's here, it's on the Bloomberg Terminal.
LEARN MORE