Lula Prompts Protests as Brazil Scandal Corners Rousseff Allies
by , , and
Police expanding reach, looking into president's inner circle

Protesters for and against Lula clashed on Wednesday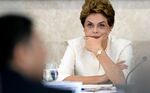 Dilma Rousseff's supporters are almost cheerful, missing no opportunity to proclaim that the political crisis that shook Brazil in 2015 and led to impeachment proceedings against the president has lost momentum. In private, they are worried.
QuickTake Brazil's Highs and Lows
Their main concern is that an almost two-year probe into a scheme of kickbacks in return for political favors that dates back at least a decade will expand and continue throughout her term. Investigators have shown no fear in targeting the nation's elite, having already arrested corporate executives, a billionaire banker and officials from the ruling Workers' Party -- some of whom remain incarcerated.
Over the past month, a founder of the party and mentor to Rousseff, former President Luiz Inacio Lula da Silva, himself has moved to the center of police probes into allegations that construction companies and car manufacturers provided him with perks in exchange for government favors. On Wednesday, supporters and critics of Lula clashed at a court house in Sao Paulo after his testimony in a probe was suspended. Two protesters were injured, Globo TV reported.
Lula hasn't been charged with any crime, repeatedly has denied wrongdoing and says the investigations are part of a campaign to discredit him. Whether or not he ever faces actual charges, the prospect of a prolonged probe of Rousseff's top allies dims the chance of a comeback for a president also dealing with a shrinking economy, rising unemployment and an outbreak of the Zika virus. Addressing all those challenges may prove a tall order for her, said political analyst Gabriel Petrus.
"The worst isn't over," said Petrus, who works at business consulting firm Barral M Jorge. "This scandal has the potential to bury her government, an economic recovery and the future of her party."
Biggest Threat
Already the investigations have landed in jail the administration's former leader in the Senate, Delcidio Amaral, and Joao Vaccari, who was treasurer of the Workers' Party during Rousseff's government. The two, who remain incarcerated, have denied wrongdoing. The Supreme Court in December released billionaire banker Andre Esteves from prison and placed him under house arrest. Esteves's attorneys have argued that his arrest was based on hearsay.
More detentions may come, as the prosecutor general's office continues to investigate more than 40 politicians for allegations of corruption.
"It's a hellish world of congressional inquiries and a police state," said Congressman Jose Guimaraes, the government's leader in the lower house. "The investigations will continue -- I don't know if for one year or 10," he said, adding the probes shouldn't paralyze Congress or the administration.
The biggest threat to Rousseff and her government may be her predecessor's alleged involvement in the scandal, given his immense political clout. After leaving office in 2010 with a record-high approval rating, Lula has been advising his hand-picked successor on economic policy and often acts as the administration's go-between with legislators in the ruling alliance. Workers' Party leader Rui Falcao said last month he is counting on Lula to run for office again in the 2018 presidential election.
Personal Interest
Rousseff has taken a personal interest in the probes into Lula. A day after meeting with her mentor in Sao Paulo last Friday to discuss the investigations, she told reporters that efforts to link Lula to corruption is "a great injustice." The presidential press office didn't respond to requests for comment when asked about the political impact of the probes.
The president will be reluctant to go further in her defense of Lula with a strong, public rebuttal to accusations against him, Barral M Jorge analyst Petrus said. That will further alienate the president from party activists urging her to be more pro-active, he said.
An actual arrest of Lula would be a cataclysmic event that could paralyze Congress and prompt his party to mobilize its leftist support base in his defense, said Thiago Vidal, a political analyst at Sao Paulo-based consulting firm Prospectiva.
Lula remains defiant and professes his innocence. The Lula Institute that he runs says laws passed in 2009 and 2010 that benefited the automobile industry were the product of public and congressional debate. In regards to allegations that construction companies paid for upgrades to a country home in return for favors, the institute denied wrongdoing and said the property belongs to friends of the family.
Daily Reports
Yet almost daily media coverage about the investigations are tainting Lula's image. Wednesday's protests at the Sao Paulo court house came after prosecutors on Tuesday night suspended the hearing into his connection to another property -- a beach-side apartment in Guaruja -- that was allegedly renovated by companies involved in the Petrobras scandal.
Such public spotlight diminishes Lula's political effectiveness, making it increasingly difficult for Rousseff to push her economic agenda to allies in Congress, analysts at political consulting firm Eurasia Group wrote in a research note last week.
As a result, the president may need to further water down some of her proposals that are unpopular with the party, such as efforts to trim pension payouts, they wrote. Her economic team has repeatedly said such measures are painful but necessary to regain investor confidence.
Rousseff's failure to win approval for her fiscal programs and revive growth could further erode her political capital, and in turn hurt Lula's chances of returning to the presidency, said Fernando Limongi, a political scientist and professor at the University of Sao Paulo.
"If the economy doesn't recover -- and recover soundly -- by the 2018 election, Lula or any other Workers' Party candidate has little chance of electoral success," Limongi said. "The Workers' Party is bleeding." 
Before it's here, it's on the Bloomberg Terminal.
LEARN MORE