Apollo's ADT Deal Shows Private Equity Catering to Bondholders
By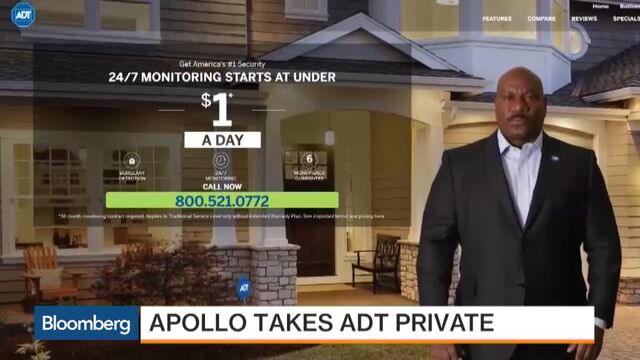 Apollo Global Management LLC's decision to structure its leveraged buyout of ADT Corp. to maintain credit ratings shows how private equity firms are trying to win over jittery investors that have shunned the weakest companies.
Apollo on Tuesday announced it would buy ADT and combine it with its security business Protection 1. Part of the funding for the deal will come from the sale of $5.4 billion of new debt and preferred securities in Protection 1, according to Moody's Investors Service. Funds managed by affiliates of Apollo committed to provide up to $3.6 billion of equity for the deal, according to a regulatory filing.
The ADT deal was structured to help the company avoid ratings downgrades that could have given bondholders the right to demand accelerated repayment of its bonds, CreditSights analyst Hitin Anand said.
"It's not a bad outcome for bondholders," Anand said. "They're bringing a lot of equity to the capital structure and existing bondholders are getting upgraded."
Bondholders in nearly $3.8 billion of existing unsecured ADT bonds that will remain outstanding will have their notes secured by a first-lien on assets of the combined entity once the acquisition closes, according to Moody's. A large portion of second-lien debt and preferred securities will be used to fund the deal, which will leave existing bondholders with a higher priority claim on assets for bankruptcy purposes in the post-acquisition capital structure.
More Equity
Moody's affirmed its Ba2 rating on ADT notes after the deal was announced because bondholders will "benefit from the debt cushion" resulting from the significant amount of second lien and preferred securities planned in the post-acquisition capital structure.
"I think they paid attention to the credit rating and structure so it'd be easier to get the deal done," said Jody Lurie, a credit analyst at Janney Montgomery Scott. "The market is less open than it was a year ago, so it's a little harder to get financing and it's been harder to pitch the LBO story. PE firms and management teams are saying, 'let's do this in a way that doesn't completely hurt bondholders.'"
The deal comes after Apollo co-founder Josh Harris said on Jan. 29 that the "financing markets are shutting down," causing the firm's acquisition pipeline to dry up. Riskier corporate loans became so unappealing in the fourth quarter that banks had to boost yields on more than $23 billion to sell them, compared with repricing $11.7 billion in the previous three months, according to data compiled by Bloomberg.
In the future, private-equity firms may have to contribute more equity to get deals done, Carlyle Group LP's David Rubenstein told investors and analysts on a Feb. 10 call. Rubenstein, the firm's co-chief executive officer, said he expects the average equity contribution on leveraged buyouts will increase to about 45 percent this year, from 37 percent three years ago.