After CES Booth Raid, Hoverboard Copycat Case Quietly Dropped
An electric skateboard company whose booth was raided now says that federal marshals were tricked into doing a competitor's bidding.
by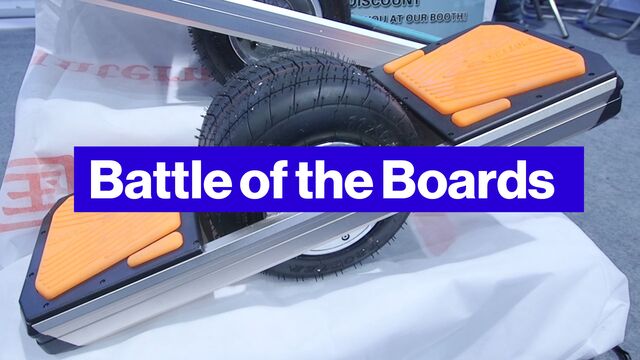 Future Motion Inc., a company that makes a one-wheeled hoverboard, caused a stir at the Consumer Electronics Show when it convinced federal marshals to raid the booth of a competitor displaying a similar product. Future Motion's founder said at the time that the raid was necessary to protect his company's intellectual property and just one step in a long-term battle against knockoffs. But about a month later the company has quietly dropped its case, and the target of the raid is now demanding a cash settlement to reimburse it for lost business and a damaged reputation.
To the naked eye, the OneWheel, made by Future Motion, and the Trotter, by Changzhou First International Trade Co., look pretty much identical. Several people at CES who walked by the Trotter actually mistook it for a OneWheel. Future Motion has two patents related to the OneWheel, a design patent that relates to its physical appearance, and a utility patent that covers the ways that it differs from other hoverboard models.
Future Motion sued Changzhou for violating these patents, and its argument was strong enough for a federal judge to issue the restraining order that led to the raid. But the order wasn't a final judgment. Changzhou didn't have an attorney present at the hearing. Its employees at CES were clearly surprised when officers with badges suddenly showed up and started packing their display models up in boxes. The company quickly hired a high-priced American law firm to put up a fight.
The crux of Changzhou's argument is that Future Motion can't claim a monopoly on one-wheeled board-based electric vehicles. In a full-throated defense of the Trotter filed with the court, Changzhou claimed that the wheels on its devices were rounder than the OneWheels's, and their foot pads thicker. 
More to the point, the OneWheel should never have received a patent because the company had been out marketing the device before going to the patent office, said Jeffrey Blake, Changzhou's lawyer. He argued that Future Motion kept this information from the judge. "Their position had a lot of holes in it, and they really overstated it from the beginning," he said.  Blake said that Future Motion used its action against Changzhou as a way to raise money from investors, something the company denies. 
Changzhou is asking for $100,000 to cover damages related to the raid. In addition, Changzhou wants Future Motion to pay its legal fees, which are already considerable. Merchant & Gould, Blake's firm, usually represents established pharmaceutical and tech companies. Blake has spent much of the last year representing the Coalition for Affordable Drugs, which challenges pharma patents while shorting the stocks of the companies that hold them. He acknowledged that a dispute on the scale of the Changzhou case seems piddling by his standards but said the company hasn't had trouble paying legal fees that have already gone into six figures. 
Shawn Kolitch, an attorney representing Future Motion, said the startup was forced to retreat because it had been outgunned. If it were to follow the case through to a final judgment, he said, Future Motion's legal fees would likely be about $1 million. As it dismissed the case, Future Motion left open the possibility that it would sue Changzhou again. But it seems that the show of force is serving as a pretty effective deterrent. "For a seemingly small company to spend that is very surprising," said Kolitch. "It definitely indicates that they have some company or entity backing them in the dispute that is far bigger." 
Kolitch said Future Motion would win the case on its merits. But Changzhou's arguments had effectively muddled the situation, according to Mark Gober, a director at 3LP, an intellectual property advisory firm. The existence of two competing products that look enough alike to be confused for one another could signal a patent violation—or not. "I look at the arguments, and I don't think any of them are crazy," Gober said. 
Before it's here, it's on the Bloomberg Terminal.
LEARN MORE