Wheat Crop Seen Topping Estimates May Help India Avert Imports
by
Government estimates 8.4 percent gain to 93.8 million tons

Rebound in production may help government avert imports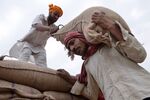 Wheat production in India, the world's second-largest grower, will climb 8.4 percent this year after unseasonal rain shrunk the crop a year earlier to the smallest in five years.
The crop will rebound to 93.8 million metric tons in 2015-16 from 86.5 million tons a year earlier, which was the smallest harvest since 2009-10, the Agriculture Ministry said in its second advance estimate of production on Monday. That's more than the 84.5 million tons median forecast in a Bloomberg survey published last week.
A bigger harvest will ease pressure on Prime Minister Narendra Modi to augment supplies through imports after the first back-to-back shortfall in monsoon rainfall cut production of rice to corn and soybeans. India is forecast to buy record quantities of palm and soybean oils to meet a domestic shortfall and it's also buying corn overseas to meet demand from feed and starch makers.
"If the government estimate turns out to be accurate, then there is no need for any imports," said Pramod Kumar, executive director of Bengaluru-based Sunil Agro Foods Ltd., which sells flour to Nestle India Ltd. and Britannia Industries Ltd. Production may not be more than 82 million tons to 85 million tons because of a decline in area under the crop and hot weather during the planting, he said.
Rice production may drop to 103.6 million tons in 2015-16 from 105.5 million tons a year earlier, while the corn harvest will drop 13 percent to 21 million tons and soybean production is seen declining 12 percent to 9.1 million tons, the ministry said. The cotton harvest will fall 12 percent to 30.7 million bales of 170 kilograms each, it said.
Before it's here, it's on the Bloomberg Terminal.
LEARN MORE