Osborne One Laughing Now as HSBC Validates 'New Settlement'
Svenja O'Donnell and Stephen Morris
HSBC decision is `vote of confidence' in U.K., Treasury says

Decision comes as Osborne eases grip on financial industry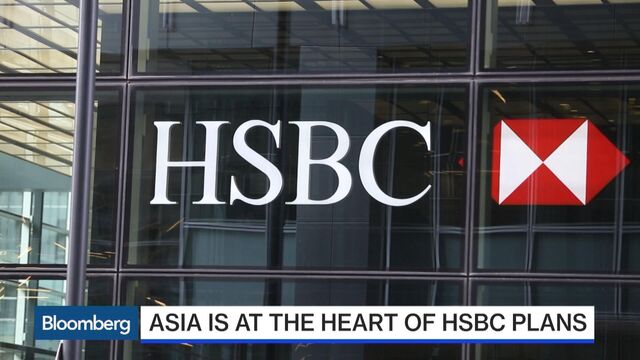 At a packed lunch in Davos last month, Chancellor of the Exchequer George Osborne drew laughter from captains of U.K. industry when he thanked HSBC Holdings Plc Chief Executive Officer Stuart Gulliver for his opening speech.
"Long may you continue to introduce the British business lunch," Osborne told Gulliver as the audience digested their roasted breasts of Barbary duck in the Swiss resort's Belvedere hotel.

The quip was an easy one to make as Europe's biggest bank closed in on a decision on whether to relocate its headquarters 23 years after moving to London from Hong Kong. With HSBC announcing Sunday it will stay put, Osborne, the bookmakers' favorite to succeed Prime Minister David Cameron, is likely to be the one laughing now.
"This is a relief for the chancellor," said Gregor Irwin, a former Treasury official and now chief economist at Global Counsel, a London-based consultancy. "It would have led to questions about his judgment had they left."
HSBC "looked carefully and dispassionately at the facts and confirmed that the U.K. is the best place to base a global business," the Treasury said in a statement. "It's a vote of confidence in the government's economic plan and a boost to our goal of making the U.K. a great place to do more business with China and the rest of Asia."
Banker Bashing
Since helping to mastermind his Conservative Party's election victory last May, Osborne, 44, has sought to withdraw the government's hand from the finance industry even as it remains a subject of ire for voters after its recent crisis triggered tens of billions of pounds of taxpayer-funded bailouts and plunged Britain into its deepest recession since at least World War II.
In the 10 months after HSBC first mooted the idea of leaving the U.K, Osborne declared a "new settlement" following years of "banker bashing," some of which he meted out by raising a tax on their balance sheets. The so-called bank levy cost HSBC $1.1 billion in 2014, more than any other bank.
The chancellor diluted that levy so it only focused on banks' domestic holdings, curtailed the era of large fines and paved the way for reducing regulatory oversight.
He has also announced plans to sell the government's stakes in banks such as Royal Bank of Scotland Group Plc and backtracked on a plan to assume senior bank managers are guilty until proven innocent.
EU Negotiations
More recently, he pushed out Martin Wheatley, who presided over some of the largest fines against banks at the helm of the Financial Conduct Authority. Osborne is at the forefront of Britain's European Union renegotiations, promising to safeguard U.K. banks from euro-area discrimination and cut red tape.
"My aim, and what I'm working to achieve, is making Britain the best place to be a global firm," Osborne said in Davos, which was hosting the annual meeting of the World Economic Forum. "For five years we've unashamedly backed business, large and small."
HSBC Chairman Douglas Flint told BBC Radio 4 on Monday that the lender backs Britain staying in the EU.
"If we were to leave and if there were to be restrictions ultimately on the renegotiation of Britain's position, we have the ability to move activity and people between London and Paris," Flint said. "Our strong economic view is that Britain is better within a reformed Europe."
Mishap Avoided
Had HSBC quit the U.K., Osborne might have come under voter pressure to justify easing up on the banks just as he looks to consolidate his position as the leading contender to take over from Cameron, who has said he'll step down before 2020.
Voters would have asked "whether the government got the balance right between conservative regulation and raising money from the sector, while allowing the banks to be internationally competitive and operate profitably," said Irwin, who also once worked at the Bank of England. "As it is, it will be a mishap that has been avoided."