Nuclear Fuel Storage in South Australia Seen as Economic Boon
By
Commission says waste site could generate A$5 billion a year

Study finds nuclear power plant not economically feasible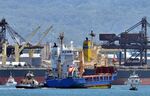 The storage and disposal of nuclear waste in South Australia would probably deliver significant economic benefits to the state, generating more than A$5 billion ($3.6 billion) a year in revenue, according to the preliminary findings by a royal commission.
Such a facility would be commercially viable, with storage commencing in the late 2020s, the Nuclear Fuel Cycle Royal Commission said in its tentative findings released Monday. It doesn't make economic sense to generate electricity from a nuclear power plant in the state in the "foreseeable future" due to costs and demand, the report found.
"The storage and disposal of used nuclear fuel in South Australia would meet a global need and is likely to deliver substantial economic benefits to the community," the commission said. "Such a facility would be viable and highly profitable under a range of cost and revenue assumptions."
South Australia, where BHP Billiton Ltd. operates the Olympic Dam mine, set up the commission last year to look at the role the state should play in the nuclear industry -- from mining and enrichment to energy generation and waste storage. While Australia is home to the world's largest uranium reserves, it has never had a nuclear power plant.
Concerns over climate change have prompted debate about whether to reverse Australia's nuclear policy. 
Longer term, "Australia's electricity system will require low-carbon generation sources to meet future global emissions reduction targets," the commission said in its report. "Nuclear power may be necessary, along with other low carbon generation technologies."
The Commission's final report will be delivered on May 6.