Kuroda's Negative Rate Takes Effect as Economic Woes Mount
by
Japan's consumers show little inclination to boost spending

GDP shrank in 4th quarter, even before market rout deepened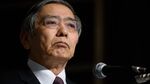 The Bank of Japan's negative interest-rate regime kicks off Tuesday amid increasing volatility in financial markets and rising concern that weak consumer spending may crimp economic growth in 2016.
Japanese stocks have been whipsawed and the yen has surged in the two weeks since Governor Haruhiko Kuroda outlined the negative-rate strategy on Jan. 29, undermining efforts to boost sentiment among households and investors. Data released Monday dealt another blow, with the gross domestic product for the fourth quarter of 2015 showing the economy contracted an annualized 1.4 percent.
A falloff in private consumption was the biggest contributor to the larger-than-forecast decline, hurting Prime Minister Shinzo Abe's efforts to revitalize the world's third-largest economy. Since the year began the yen has appreciated 5.6 percent against the dollar, eroding the competitiveness of exporters, while some economists now question how well Kuroda's new policy tool will work, at least in the short-term.
'Poor Impression'
"Consumers have a poor impression of the negative rate policy," said Atsushi Takeda, an economist at Itochu Corp. in Tokyo. "Households are behaving defensively -- holding off spending."
Takeda and other economists think that once markets stabilize, the policy could help hold the yen in check and Japanese households may respond positively, especially if their borrowing costs fall.
Junko Nishioka, chief economist for Japan at Sumitomo Mitsui Banking Corp. in Tokyo, said that as interest rates on bank deposits were already slim, the negative rates probably won't further "sap" consumption. She said mortgage rates should drop, which would be positive for households.
Kuroda's surprise move, which mirrors a strategy adopted by some of his counterparts in Europe, is aimed at spurring banks to lend by penalizing them for holding some of their excess reserves at the central bank.
As of Tuesday, a rate of minus 0.1 percent will be applied on about 10 trillion yen of financial institutions' reserves held at the BOJ.
Volatile Markets
The yen's rally has been interrupted by modest declines in recent days while Japan's Topix stock index soared 8 percent Tuesday, its biggest jump since 2008. While the move follows a rise in U.S. equities Friday and the view that Japanese shares fell too much last week, it also reflects speculation that the GDP data will increase pressure on the BOJ for further stimulus. The central bank's next policy meeting is scheduled for March 14-15.
The Japan's economy has seesawed over the past three years since Abe returned as prime minister, even as Kuroda has ratcheted up monetary easing. Everything from household spending to industrial production and exports tumbled in December.
A lack of growth in wages is a big reason for the weak trend in Japan, said Taro Saito, the director of economic research at the NLI Research Institute in Tokyo. Total wages in Japan haven't risen more than 1 percent in any year since 1997 and they fell for the past four years once inflation is accounted for.
Some economists see the weak growth figures as a sign that Abe will postpone a planned sales tax increase, set to take effect in April 2017, and that the data also increases the possibility for further easing by the BOJ.
'Downside Risks'
"There's a high chance that the BOJ may take additional easing at the next meeting in March," Masamichi Adachi, an economist at JPMorgan Chase & Co. and a former central bank official, said before the GDP data were released Monday. "The downside risks to the BOJ's outlook on growth and inflation are increasing."
On Monday, Nomura cut its forecast for Japan's fiscal 2016 GDP to 1 percent from a previous projection of 1.4 percent, partly citing the impact of the strengthening yen on companies' capital-spending plans. Nomura said it sees a high chance of the BOJ expanding easing at its March meeting if the market turmoil continues.
Before it's here, it's on the Bloomberg Terminal.
LEARN MORE