Photographer: Billy H.C. Kwok/Bloomberg
Hong Kong Land Price Plunges Nearly 70% in Government Tender
by
Tai Po site in New Territories sells for $274 million

Land bought by subsidiary of China Overseas Land & Investment
In the latest sign that Hong Kong's property correction is deepening, a parcel of land sold by the government in the New Territories went for nearly 70 percent less per square foot than a similar transaction in September.
The 405,756 square foot (37,696 square meter) site in Tai Po sold for HK$2.13 billion ($274 million) or HK$1,904 per square foot, in a tender that closed on Feb. 12, according to the Hong Kong Lands Department website. The buyer was Asia Metro Investment Ltd., a subsidiary of China Overseas Land & Investment Ltd.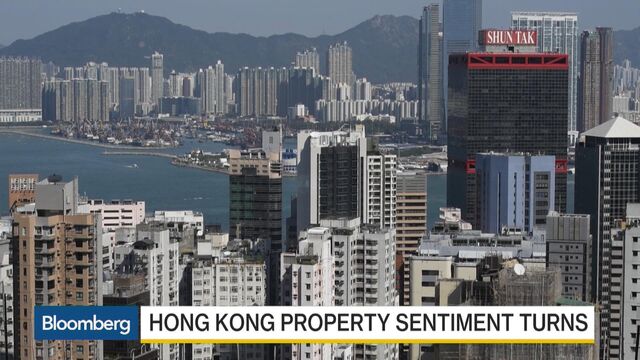 The plunge in the price of land comes amid weaker appetite from Hong Kong developers against the backdrop of a nearly 11 percent drop in housing prices since their September high, according to the Centaline Property Centa-City Leading Index. In January, sales of new and secondary homes reached their lowest monthly level since Centaline started tracking data in January 1991.
Hong Kong home prices surged 370 percent from their 2003 trough through the September peak before the correction began, spurred by a rising supply of housing and a slowdown in China. Lower prices paid for land could eventually lead to cheaper home prices down the road, and are viewed as a leading indicator of the negative sentiment on the market.
Downward Pressure
Adding to the downward pressure on prices was the government on Jan. 13 raising its five-year target for new housing supply to 97,100 new homes, up from a previous estimate of 77,100 units.
The Tai Po sale came on the heels of a parcel of land sold by the government in Kowloon on Feb. 3 for HK$4,249 per square foot in Sham Shui Po district to a subsidiary of Vanke Property (Hong Kong) Company Ltd., according to Bloomberg Intelligence.
Recent land sales have been dominated by mainland Chinese developers. Hong Kong property companies have been less active, as they're struggling to sell existing units in their inventories and offering discounts of more than 12 percent to entice new buyers.
Nicole Wong, head of property research at CLSA Ltd. said mainland companies are outbidding their Hong Kong counterparts because they expect lower margins and are also anxious to park money offshore given the devaluation of the yuan.
Renminbi Depreciation
"You see more Chinese developers for these lower entry sites because they are better than their projects in China in terms of profitability, " she said in a phone interview. "And because of the renminbi depreciation, some want to get money out."
Still, Wong cautioned against drawing conclusions on the basis of two land transactions, as it's impossible to find two sites that are identical. She estimates land prices overall have fallen about 15 percent since their peak, based on the assumption that housing prices have fallen about 10 percent and land accounts for about 60 percent of overall development costs.
Hong Kong Chief Executive Leung Chun Ying has introduced a raft of measures to cool the property market since 2012 after a rally in home prices fueled complaints of a widening wealth gap. Now that prices are finally starting to fall, property analysts including Raymond Ngai of Bank of America Corp.'s Merrill Lynch unit expect the government will ease the measures.
Ratings company Standard & Poor's issued a report Monday projecting a 10 percent to 15 percent decline in property prices, and said that they would need to fall 30 percent before triggering a ratings downgrade on Hong Kong developers.
Hong Kong ranked as the most expensive housing market among 87 major metropolitan regions, according to the annual Demographia International Housing Affordability Survey, which used data from the third quarter of 2015. The median home in Hong Kong costs 19 times the median annual pretax household income, the highest multiple Demographia has measured, and up from 17 in last year's report, according to the company's website.
Before it's here, it's on the Bloomberg Terminal.
LEARN MORE