Why the World Should Watch the Bank of Korea's Rates Meeting
by
Bond yields reached a record low last week on rate-cut bets

Economists expect BOK to resist the pressure at this meeting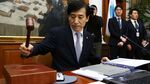 The Bank of Korea holds a policy meeting Tuesday as a global market rout dims the outlook for the world economy this year.
While the BOK is forecast to keep rates at a record low, its view of risks posed to emerging markets will have global resonance. It is one of the few central banks to meet this month -- the Bank of Japan, the U.S. Federal Reserve and the European Central Bank don't set monetary policy until March -- amid a decline in global equities and risk aversion that is increasing pressure for fund outflows in economies like Korea.
All 15 economists surveyed by Bloomberg expect that the central bank won't change the seven-day repurchase rate at this meeting. But there are growing predictions -- including from economists at Barclays Plc and Australia & New Zealand Banking Group Ltd. -- that the BOK board will further ease at its March gathering when members have a better picture of first-quarter growth.
BOK rate-cut bets rose last month after the Bank of Japan adopted a negative interest rate strategy and the U.S. signaled a delay in monetary tightening, supporting calls that South Korean policy makers should also act. Korea's three-year bond yields fell to an unprecedented low of 1.45 percent on Feb. 11, below the benchmark 1.5 percent rate. They fell below the benchmark before the BOK rate cuts in March and June 2015.
"My base view is still for a March cut, because it would give the BOK at least one month of industrial production data for 2016, plus two months of exports and sentiment indicators, to assess if economic performance for the first quarter is in line with their forecast path," said Wai Ho Leong, a Singapore-based economist for Barclays.
The BOK's rate decision will be announced about 10 a.m. in Seoul, followed by a monetary policy statement. Governor Lee Ju Yeol's press briefing usually starts about 11:20 a.m. Below are key points to watch:
Any Dissenters?
Even if the BOK board doesn't change policy at this meeting there could be dissenters calling for a rate cut, which increases the likelihood of easing in coming months. Last year, board member Ha Sung Keun dissented in the bank's decisions in April and May to hold rates steady. The board cut the benchmark rate at its June meeting.
Korea's exports in January fell the most since 2009, while consumer sentiment fell to levels seen last year when the outbreak of the Middle East Respiratory Syndrome scared away foreign tourists and kept local shoppers at home.
Rate Signal
While the central bank seldom makes pledges that it will lower rates further, reading between the lines of Lee's comments or the policy statement can be a good way to forecast possible future action.
As Lee has said rate decisions will be dependent on data, his comments on whether recent economic performance matches or trails expectations will be key to watch. The BOK in January cut its projections for 2016 growth to 3 percent and for inflation to 1.4 percent. In the monetary policy statement, any mention of rising uncertainty regarding Korea's growth path or weaker sentiment will suggest that the board is growing more concerned.
As a signal that the central bank sees no urgent need for a cut, watch for language about the current rate being accommodative enough or the mention of side effects of lower rates -- such as high household debt. With the renewed drop in oil prices and market uncertainty in neighboring Japan and China damping appetite for emerging-market assets, Lee may express stronger concern that further easing could exacerbate capital outflows and disturb the market.
External Risks
Tuesday's press briefing will be the first time Lee takes questions in public since the BOJ's announcement of its negative rate strategy and after Federal Reserve Chair Janet Yellen suggested the U.S. central bank may postpone further rate increases. The European Central Bank also has signaled it will deploy new stimulus.
Lee may feel pressure to ease because of the global trend. Conversely, he could highlight the limits of central bank policies and stress the need to focus on more fundamental issues rather than seek a short-term boost from monetary easing.
Also, Lee may offer his opinion on the economic impact of rising geopolitical risks after North Korea fired a missile earlier this month, which led to the closing of an inter-Korea industrial complex.
Before it's here, it's on the Bloomberg Terminal.
LEARN MORE