Concorde Pilot's Plan for Longer Heathrow Runway Secures Patent
by
Proposal would allow jets to simultaneously land and take off

Group aims to sell or license blueprint to Heathrow owner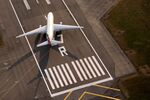 A proposal to extend one of the two runways at London's Heathrow Airport to allow jets to land and takeoff from the same strip simultaneously has been granted patent approval.
The plan, which would lengthen Heathrow's north runway to 6.8 kilometers (4.2 miles) and divide it with a 650 meter safety zone, is one of three options under review by the U.K. government as it decides whether to expand Europe's biggest airport or invest in London Gatwick, to the south of the capital.
The Heathrow Hub Ltd. plan, devised by former British Airways Concorde pilot Jock Lowe, would extend capacity to 700,000 flights annually, 40,000 fewer than would be available with the construction of a third runway, as favored by Heathrow Airport Ltd. itself. At the same time it would be less costly and affect fewer homes, and could be licensed or sold to Heathrow if preferred.
A government-appointed commission last year priced Lowe's plans at about 13.5 billion pounds ($20 billion), 3.4 billion pounds more than he estimated. It said that Heathrow's own third-runway plan was the best option for growth.
Before it's here, it's on the Bloomberg Terminal.
LEARN MORE