Aluminum Island Offers Cheap Power Oasis Amid Commodities Tumble
by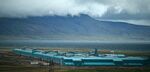 Iceland's aluminum smelters are doing just fine even as the deepest market plunge in about seven years pressures production across the world.
That's because most of them tap cheap power from the north Atlantic island's vast stores of geothermal and hydro-power in contracts that are linked to the price of the metal. The island's three smelters, run by Rio Tinto, Century Aluminum and Alcoa, last year contributed 38 percent of the $15.6 billion economy's total exports.
"There are about 300 aluminum smelters in the world and there are probably fewer than five smelters anywhere that are paying less for power than Alcoa and Century pay in Iceland," Ketill Sigurjonsson, chief executive officer of consultant Askja Energy Partners, said in an interview.
The power link is vital for operations, according to Ragnar Gudmundsson, the CEO of Century's local Nordural unit.
"We have the tools needed to deal with downturns without cutting down production or laying off employees or something of that kind," he said in an interview in Reykjavik. "There are a number of aluminum plants that are said to have a difficult time operating under the current market conditions, but the market seems to be turning a corner after having hit around $1,400 per ton."
Aluminum at the London Metal Exchange has been trading near its lowest levels since 2009. The LME primary aluminum 3-month contract traded at about $1,500 a ton last week, down from a high of about $2,800 in 2011.

But all things aren't equal. Rio Tinto, the owner of Iceland's oldest smelter, saw its power link disappear when the terms of its accord with Landsvirkjun were renegotiated in 2010. Its power prices now follow the U.S. consumer price index.
"Competitive energy price is the premise for producing aluminum and investments in the aluminum sector are mostly directed to places which offer competitive energy prices," Alcoa's Iceland chief executive officer, Magnus Thor Asmundsson, said in an interview in Reykjavik.
Having lost the linkage between aluminum price and their biggest expenditure, Rio Tinto's plant is now facing challenges. In November, the company said it may shut the factory when workers threatened to strike over plans to hire more contractors.
"The three Icelandic aluminum companies are facing very different competitive positions," said Sigurjonsson. Alcoa's contract doesn't come up for renewal until 2048, while Century has begun talks on an agreement expiring in 2019 for about a third of its energy. With a drop in commodities' prices, "Rio Tinto might want to pay a one-off fee to get away from the power agreement," he said.
Rio Tinto's Iceland chief executive officer, Rannveig Rist, declined to comment when reached by telephone.
While the industry is now one the three pillars of the Icelandic economy, along with fishing and tourism, local residents are growing weary of the impact the heavy industrial activity is having. Iceland is seeking to build itself up as a key tourist destination following its financial and economic collapse in 2008.
"The societal debate has changed in recent years and aluminum smelters are more controversial now," said Jon Gunnarsson, the chair of parliament's Industrial Affairs Committee. Still, people should be careful what they wish for, he said. "Aside from the fishing industries, it's pretty much only the energy intensive industries that are competitive from an international standpoint," he said. 
In 2015, almost 1.4 million tourists visited the volcanic island, a number which is expected to grow by 16 percent this year, according to Arion banki estimate.
"We've got three smelters now and they are an eyesore," said Stefan Gunnarsson, a pensioner, in a Reykjavik interview. While appreciative of what the industry has done for the economy, he says it's time for change. "Those tourists coming from all over the world aren't coming here to look at smelters."
That may be true. But those that are already in place will continue to find Iceland is a sweet spot.
"Presumably, Alcoa has the strongest position with an extremely beneficial power agreement which will last through 2048, paying one of the lowest power price found anywhere in the world," said Askja's Sigurjonsson.
Before it's here, it's on the Bloomberg Terminal.
LEARN MORE