A Hotel in Diyarbakir Shows Risks of Turkey's Southeastern War
by
Renovated Green Park Hotel occupied by Turkish special forces

`My commercial life is finished,' owner says amid PKK threats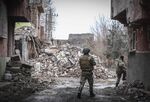 The newly renovated Green Park Hotel in Diyarbakir, a city of about 1 million people on the banks of the Tigris River, has bullet holes in its walls, sandbags filling its windows and $800,000 of debt to the banks.
QuickTake Turkey's Continental Divide
Turkish special forces have taken over the 138-room hotel, according to owner Nedim Cizmeci, leaving his business literally stuck in the middle of renewed fighting between the state and the PKK, the Kurdish separatist group that Turkey, the EU and U.S. all call a terrorist organization. American-made M-60 tanks have replaced tourists on the cobbled streets outside, helping turn the historic neighborhood of Sur to ruins just six months after it was inscribed on UNESCO's World Heritage List.
"Security forces moved into the hotel without our permission and the PKK is threatening us with death for letting them in," Cizmeci said by phone this week from Istanbul, where he owns other properties. "My commercial life is finished in Diyarbakir."
Urban Warfare
The fighting is battering a region that's been a drag on Turkey's economic statistics for decades, where unemployment of about 20 percent is almost twice the national average and income per person, at $4,000, is about a quarter the rate in the country's west. Investors who once spoke of a "peace dividend" as talks moved the Kurdish issue off their list of concerns, are now contemplating reconstruction costs and the potential for violence to spread to other cities, challenging an economy already struggling with record foreign investor outflows.
The cost to insure Turkey's sovereign debt against default was 311 basis points as of Wednesday, near the highest in four years. The yield on two-year debt in liras increased by almost 300 basis points in a year to 11.12 percent, third-highest in major emerging markets, behind the Philippines and Brazil.
While fighting with the PKK has been a near-constant of Turkey's security backdrop for more than 30 years, the urban setting of the latest round of battles is new, and conflict might widen "to dozens more towns across the nation by March or April," according to Serdar Sement, president of Istanbul-based risk consultancy S Informatics. That's consistent with an alert Turkey's police sent to staff in all 81 provinces earlier this month, warning of intensified attacks in the spring by PKK members being trained in urban warfare, according to Hurriyet newspaper.
Risk Perception
"This would be a turning point for the risk perception of investors," said Naz Masraff, director for Europe at political risk consultancy Eurasia Group in London. "A level of violence in the country's southeast was already more or less priced in from the perspective of foreign investors, as long as the clashes are restricted to an area. But violence in Istanbul and Ankara would seriously escalate their concerns."
The conflict is already devastating the regional economy, shopkeepers are struggling to stay afloat and companies in western provinces are hesitant to source from or have their supply chains run through the east and southeast for fear of losses and non-payment, according to Anthony Skinner, a director with U.K.-based forecasting company Verisk Maplecroft. Earlier this month, Aynes, a dairy company that exports to Iraq, failed to pay a coupon on a 50 million lira bond ($17 million), citing security risks in the southeast as a reason for its financial difficulties.
Hundreds Dead
In the Sur neighborhood of Diyarbakir alone, troops had killed 196 people as of Feb. 13, according to the military. Another 659 were killed in Cizre, a town in Sirnak province. The fighting started in the wake of an inconclusive election in June that gave a pro-Kurdish party, the HDP, parliamentary representation for the first time, ending the governing AK Party's 13-year domination of the legislature. While the AK Party restored its majority in a repeat poll in November, the violence surged.

"We're in a war like Syria," said Firat Uger, a legal counselor for businesses in Diyarbakir. "Businessmen dug a grave and buried their money in the southeast."
While there's no official estimate yet for the cost of the latest fighting, the government is facing a growing bill for the destruction, offering postponement of social security payments as well as jobs, rent support and financial aid for some of more than 100,000 internally displaced people. Education Minister Nabi Avci said some 400 schools had been damaged, according to Hurriyet newspaper on Feb. 11.
Urban Restoration
Prime Minister Ahmet Davutoglu promised that after military operations end, Sur would be restored such that its architectural wonders would rival those of Toledo, Spain, according to Turkish media on Feb. 1. "Our struggle will continue until public order is brought to every province, every village, every field, every mountain and plain and river on this land," he added on Feb. 5.
Meanwhile, Cizmeci's woes aren't limited to the occupation of his hotel, which provides Turkish soldiers a high point overlooking snow-covered roofs of one-story homes in Sur. He also has to repay his loans, and pick up high utility bills due to use of his hotel by security forces.
"We've spent $30 million to build and renovate the hotel," he said. "Now it's not worth half that."
Before it's here, it's on the Bloomberg Terminal.
LEARN MORE