business
Turnbull Faces Policy Challenge as Aussie Cabinet Unveiled
By and
Government has only months to craft agenda before election

Ciobo named trade minister, Chester gets transport portfolio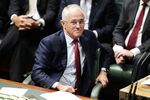 Australian Prime Minister Malcolm Turnbull's new Cabinet has just months to fashion an economic reform program to boost growth and cut the budget deficit before the government faces voters at an election.
The prime minister unveiled his new lineup on Saturday after resignations and retirements left just a third of the Cabinet in their original roles since the coalition won office in 2013. Steven Ciobo was appointed trade minister while Darren Chester will take the infrastructure and transport portfolio.
Turnbull, who justified ousting his predecessor Tony Abbott in September with a pledge to end "policy on the run," is yet to reinvigorate the Liberal-National coalition's stalled agenda. The government last week ruled out a major overhaul of the taxation system, and is yet to find a way to shrink its fiscal gap with delivery of its annual budget just weeks away.
"This is transition, this is change, this is renewal," Turnbull told reporters in Sydney on Saturday. "Organisms that don't change are dead."
Lack of Progress
An opinion poll released Monday indicated the ministry upheaval and the government's talk of tax changes may have eroded the government's popularity. According to a Fairfax/Ipsos poll published in the Australian Financial Review, the coalition's lead over Labor on a two-party preferred basis narrowed to 52 percent to 48 percent, compared with 56 percent to 44 percent in the previous poll in November.
While the survey indicated the coalition is still on track for re-election, the government is not being helped by an economy buffeted by slumping commodity prices, slowing growth in its biggest trading partner China and financial market volatility.
Business leaders have criticized the government, saying a lack of progress on its tax reform package is creating uncertainty. Yet Turnbull may see defending his opinion poll lead before an election expected between August and October as more important.
"What we've seen from Turnbull's leadership is that he's putting politics ahead of policy, and that's to be expected leading up so close to an election," said Zareh Ghazarian, lecturer of politics at Monash University's School of Social Sciences.
Any potential tax policy would have to be "very mild," Ghazarian said. "Tax reform is clearly something they see a lot of negative feedback from."
Last week, Turnbull backed away from raising the 10 percent goods and services tax to 15 percent to reduce a reliance on personal income tax, saying the economic benefits of such a switch were limited.
Modest Changes
Treasurer Scott Morrison flagged modest changes in an interview with the Sydney Morning Herald published on Sunday, hinting that Treasury was considering capping workplace-related deductions -- similar to a system adopted in the United Kingdom.
The biggest change in the Cabinet is the role of deputy prime minister, with Barnaby Joyce automatically assuming the position after being selected Thursday to succeed Warren Truss as leader of the National Party, the government's junior coalition partner. The trade portfolio was left vacant by Andrew Robb, who like Truss, is retiring from parliament at the election.
Turnbull lost two ministers in December. Jamie Briggs, responsible for development of cities, quit, citing an error of judgment in a Hong Kong bar. Special Minister of State Mal Brough temporarily stood aside that month amid a police inquiry into events surrounding access to the diary of the former speaker of Parliament, and resigned from the ministry on Saturday. Human Services Minister Stuart Robert stood down on Friday amid revelations he promoted an Australian company while on vacation in China, in breach of ministerial standards.
Other changes to the ministry announced by Turnbull on Saturday include:
Alan Tudge becomes Human Services Minister
Fiona Nash becomes Regional Development Minister
Concetta Fierravanti-Wells becomes minister for International Development and the Pacific
Finance Minister Mathias Cormann will permanently take on special minister of state duties


The ministerial turnover has sparked claims by the main opposition Labor Party that the government is in a state of "chaos."
"The changes to the ministry show the coalition still seems to be in a bit of turmoil," said  Andrew Hughes, an Australian National University political analyst. "Turnbull needs to be the glue to hold them together. With the election not far away, the pressure is really on him to get his selections right and for this new ministry to perform well."
(
Updates with poll result in fifth paragraph.
)
Before it's here, it's on the Bloomberg Terminal.
LEARN MORE