New York Shivers Its Way to Record Cold Temperatures Sunday
by
Central Park's 100-year-old record fell as the city awoke

NYC readings will rise 50 degrees by Tuesday as chill fades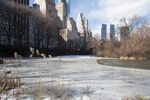 The record cold gripping New York City has probably peaked along the East Coast and will start to retreat amid snow, sleet and rain on Monday and Tuesday, when temperatures rise by more than 50 degrees, according to the U.S. Weather Prediction Center.
New York's Central Park got as low as minus 1 degree Fahrenheit (minus 18 Celsius) Sunday morning, breaking a record set in 1916, said Jay Engle, a National Weather Service meteorologist in Upton, New York. The last time Central Park posted a below-zero reading was in January 1985. By Tuesday temperatures there could reach 53 degrees, the weather service said.
A record was tied at New York's LaGuardia Airport and broken at John F. Kennedy International Airport, which both reached 1 degree, said Bob Oravec, a senior branch forecaster with the Weather Prediction Center based in College Park, Maryland. The old marks were set in 1979. With the bottom reached, temperatures will begin to rise, and with it some stormy weather through Tuesday along the East Coast.
In Boston, readings reached minus 4 just before midnight on Saturday breaking a record set in 1967.
"There is a lot of improvement coming down the pipe; the coldest day is probably today," Oravec said. "Winter is not over, but this really bad patch is going to be passing."
The weather service posted wind chill warnings and advisories from West Virginia to Maine as the frigid Arctic air moved from the Midwest into the East Coast over the weekend. Extreme cold warnings stretched from Ontario to Newfoundland as well, according to Environment Canada.
In the U.S., the lowest temperature for Sunday was the minus 37 posted in Watertown, New York, near Lake Ontario and about 125 miles (200 km) south of Ottawa, the National Weather Service said.
On Saturday, at New Hampshire's Mount Washington Observatory, 6,288 feet (1,898 meters) above sea level, temperatures dropped to minus 38. Brisk winds there made the readings feel closer to minus 77.
Oravec said temperatures will start to moderate on Monday, with a high of 36 forecast for Central Park. As readings rise, snow will start to fall, which will change to sleet and then rain. By Tuesday, with temperatures in the 50s, Central Park could be soaked by heavy rain, the weather service said. Boston could hit a a springlike 55 and Washington 49 the same day.
Farther inland, the same storm is likely to bring snow. Winter weather advisories and storm warnings were posted from North Dakota to North Carolina. As much as 5 inches (12.7 cm) could fall in Virginia and West Virginia.
Before it's here, it's on the Bloomberg Terminal.
LEARN MORE