Japan's Economy Contracted Again in Final Quarter of 2015
By
GDP shrank even more than forecast in the fourth quarter

The rout in markets since then adds to Japan's economic woes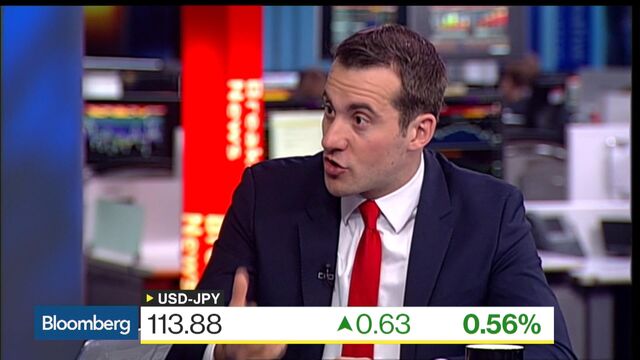 Japan's economy contracted in the final three months of 2015 as the nation struggles to break free of a cycle of expansion and contraction despite more than three years of the Abenomics program.
Gross domestic product shrank an annualized 1.4 percent in the three months ended Dec. 31, following a revised 1.3 percent gain in the third quarter, the Cabinet Office said on Monday. The median estimate of 33 economists surveyed by Bloomberg News was for a 0.8 percent decline.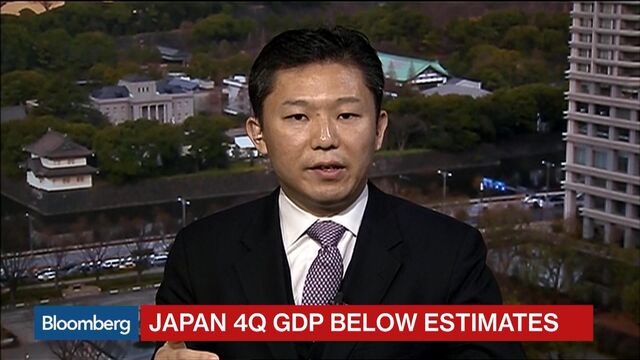 Weakness in private consumption was the biggest contributor to the contraction at the end of last year, undermining Prime Minister Shinzo Abe's policies to spur inflation and growth in the world's third-largest economy. Since then, the yen appreciated 5.6 percent against the dollar, hurting exporters and eroding some of the benefits of record monetary stimulus.
"Consumption was weak, even after taking out seasonal factors, as households tightened their purse strings," said Yuichi Kodama, chief economist at Meiji Yasuda Life Insurance Co. in Tokyo. "The downside risks to Japan's economy are likely to increase as the yen's gains may damp capital spending and exports, and private consumption also is looking weak. There's no clear driver to support Japan's economy."
Stocks Rebound
The yen declined 0.6 percent to 113.87 versus the dollar at 3:29 p.m. in Tokyo while the Topix stock index rallied 8 percent. The share market surge followed a jump in U.S. equities Friday, signs that shares had been oversold, and expectations that the poor GDP number would increases pressure on the central bank to boost monetary stimulus.
Investors sometimes have been led astray by GDP data in Japan. Initial gross domestic product data showed Japan falling into a recession in the third quarter of 2015 before being revised to show expansion.
The economy's performance has see-sawed over the past three years since Abe returned as prime minister, even as BOJ Governor Haruhiko Kuroda has ratcheted up monetary easing in concert with government efforts to spur higher wages, consumer spending and investment. Everything from household spending to industrial production and exports tumbled in December.

All this was before the rout in global markets this year. Since then, the Bank of Japan has added to its stimulus by introducing negative rates out of concern that market volatility and China's slowdown have increased the risks of a delay in changing Japan's "deflationary mindset."
A lack of growth in wages is a big reason for the weak trend in Japan, said Taro Saito, the director of economic research the NLI Research Institute in Tokyo. Total wages in Japan haven't risen more than 1 percent in any year since 1997 and they fell for the past four years once inflation is accounted for.
"There's a high chance that the BOJ may take additional easing at the next meeting in March," Masamichi Adachi, an economist at JPMorgan Chase & Co. and a former central bank official, said before the GDP data. "The downside risks to the BOJ's outlook on growth and inflation are increasing."
Monday's report shows that:
Business spending rose 1.4 percent in the fourth quarter from the previous three months.

Private consumption dropped 0.8 percent in the fourth quarter.

Private inventories subtracted 0.1 percentage point from the fourth-quarter GDP.
Net exports, or shipments less imports, added 0.1 percentage point to GDP.


The slowdown in China -- Japan's largest trading partner -- and the sudden appreciation of the currency are concerns for companies and may erode their record profits. Panasonic Corp. cut its profit forecast for the year ending in March as sales of air conditioners and devices fell in China. Hitachi Ltd. slashed its full-year profit forecast on slower sales of construction machinery in China and reduced demand from oil-producing nations hurt by falling energy prices.
Economists have raised their estimates of the likelihood that Japan could fall into another recession in the next 12 months to the highest level since the end of 2012, according to a separate survey of economists conducted between Jan. 29 and Feb. 3.