Indonesia's Jokowi Finds Traction After Tumultuous First Year
By
Leader has a majority in parliament and riding high in polls

He tells Bloomberg relations with political parties are good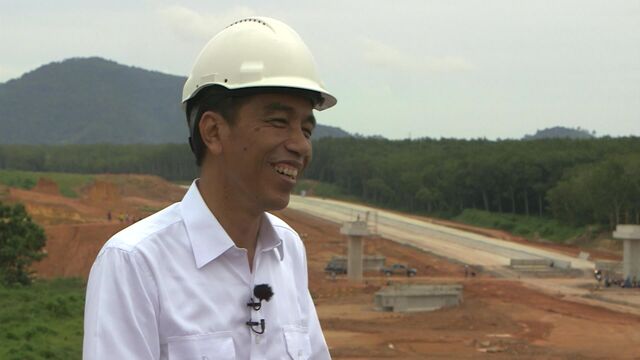 Shoppers clamber atop slippery fish stalls in a town in rural Indonesia to catch a glimpse of President Joko Widodo and jostle to kiss his hand, a sign the star power that swept him to office a year-and-half ago is intact.
Until recently, the same couldn't be said for his relations with the parliament, or even his own party. While challenges remain, that now looks to be slowly changing as the former furniture exporter gets a better grip on national politics and the once-majority opposition coalition crumbles. Set against neighbors Malaysia and Thailand, Indonesia looks relatively calm.

"Our relationship with all political parties is good, there is no problem," the president, better known as Jokowi, told Bloomberg Television after stopping off at the market and visiting a toll road project on Sumatra island last week. "Our relationship with the parliament is also very good." He put his initial woes down to "communication" issues.
Finding momentum, alongside an improvement in macroeconomic indicators and positive polling numbers, is crucial. Jokowi needs political stability and smoother relations with parliament for the rest of his five-year term to reach his goal of lifting economic growth to 7 percent by 2019. He's planning a massive increase in public spending on infrastructure and seeking greater foreign investment.
Jokowi took office in October 2014 after the most divisive election in the country's history saw him beat former Suharto-era general Prabowo Subianto. Under Indonesia's electoral system, Prabowo's coalition of parties occupied most of the seats in the parliament as well as its leadership roles, making it harder for Jokowi to govern effectively.
He also lacked experience on a national level and didn't have well established networks within the major political parties in order to get things done. Before becoming president he was governor of Jakarta and the mayor of Solo.
QuickTake Indonesia's Nationalism

Jokowi found that out the hard way with early missteps and public spats within his coalition that caused unease among investors.
He drew criticism for some policies: The country's manpower ministry made it harder for foreign professionals to get work permits, while the trade ministry issued protectionist regulations.
Still, patronage and money, rather than policy or ideology, drive Indonesian politics so shifting allegiance is possible. Gradually, most opposition parties have expressed support for Jokowi, most recently the Golkar party, giving government backers a majority in parliament.
'Learnt Fast'
"Jokowi has good reason to be confident because he has been able to assemble broad political support," said Djayadi Hanan, a politics professor at Paramadina University in Jakarta. "He learnt fast. He has the backing of the parliament and the public. He should be optimistic of stability until at least mid 2018 when the elections begin approaching."
The president has an approval rating of 67 percent, up from 41 percent in June 2015, according to a survey carried out last month by Indikator Politik. Thirty seven percent said they would vote for him in 2019, with Prabowo in second place with 15 percent. Indikator Politik conducted personal interviews with 1,550 people.
Party Tensions
Market sentiment has also improved. So far this year the rupiah is Asia's third-best performer, driven by inflows into the bond market.
"You can see things are more constructive when it comes to policies now," said Indra Mawira, an investment manager at Panin Asset Management, which has around $1 billion under management in the country. "Last year was horrible on economics and finance. Things are getting done at least. The political noise has reduced."

Jokowi seems to have smoothed out ties with his own Indonesian Democratic Party of Struggle, or PDI-P, led by former President Megawati Soekarnoputri. Tensions between them were exposed last year by a destabilizing dispute over Jokowi's choice of police chief. In August, Jokowi appointed Pramono Anung, the PDI-P's deputy secretary general, as his cabinet secretary, a move that gave the party closer access to Jokowi and helped heal relations with Megawati, said Hanan.
Still, parliament last year passed just three bills into law, the lowest total in at least the last five years, according to the Jakarta Post. The 560-seat body has prioritized the passage of 40 new laws or amendments this year.
A coming test of Jokowi's ability to work with parliament will be whether he can push through a tax amnesty law projected to bring in an extra 60 trillion rupiah of revenue this year. It's possible some parties may seek concessions from the president in return for supporting the measure.
Growth Target
While the economy has held up, there are headwinds as Jokowi targets growth of 5.3 percent this year, up from 4.79 percent last year. With little prospect of a pick up in commodity prices and the extent of the slowdown in the Chinese economy still unclear, the pace with which Jokowi can push through domestic reforms will be key to reaching the growth goal.
Also on the agenda is a revision of anti-terrorism legislation to better deal with the threat posed by the emergence of the Islamic State.
Parliamentarians, including those from Jokowi's party, are seeking revisions to the anti-corruption agency that critics say would leave the body, ranked in surveys the country's most respected institution, severely weakened. Failure to stop them risks hurting Jokowi's reputation as a reformer.
'Show Leadership'
"Jokowi's stance on corruption will be put to the test," said Frank Feulner, a governance analyst and former adviser to the Indonesian parliament. "The question is whether the president will show leadership by vetoing the parliament's attempts or instead succumb to horse trading."
After the reception at the market, where the president and his staff bought squid, cockles and fish from vendors and gave school books to young children, the trip to the toll road showed progress on at least a small section of his infrastructure ambitions.
Given the morning's agenda, Jokowi was asked if he was considering running again in 2019. The president laughed before an aide cut in, also smiling, to shut off the line of questioning, saying: "It's still too early to talk about that."