HSBC Keeps London Base in Victory Over Asia; Shares Gain
by and
Board's decision was unanimous after 10 months of debate

Bank says will cease regular reviews of headquarters' location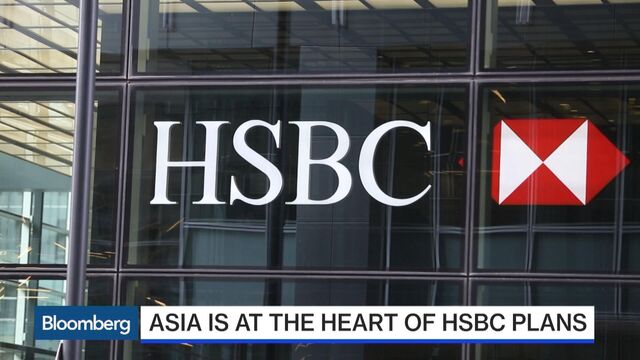 HSBC Holdings Plc recommitted its future to London, ending 10 months of deliberations over whether to move its headquarters, after securing concessions from the U.K. government on regulation and taxes. The shares rose.
Europe's largest bank said it will continue its 23-year stay in the U.K. capital after its board, led by Chief Executive Officer Stuart Gulliver and Chairman Douglas Flint, convened there on Sunday. The decision was unanimous, according to a statement from the bank.
"As we evaluated jurisdictions against the specified criteria, it became clear that the combination of our strategic focus on Asia and maintaining our hub in one of the world's leading international financial centers, London, was not only compatible, but offered the best outcome for our customers and shareholders," Flint said in the statement.
The shares increased 1 percent to 445 pence at 10:04 a.m in London, bringing the loss this year to 17 percent.
The decision is a victory for U.K. Chancellor of the Exchequer George Osborne, who made tax and regulatory concessions to large banks despite their poor standing among voters following the 2008 financial crisis. It also underscores London's status as a global financial hub at at time when it's being undermined by debate over whether the U.K. will quit the European Union.
Default Position
"Their default position was always to stay in the U.K.," said Chris Wheeler, a London-based analyst at Atlantic Equities, a U.S. brokerage firm. "They would have needed very strong arguments to leave given the mountain of legal and regulatory work involved in a move, as well as the political pressure."
The loser is Hong Kong, which Bloomberg Intelligence estimates accounts for 22 percent of HSBC's assets and generated almost half of the company's pretax profit in 2014. A slowdown in China, which administers the former British colony, and fresh questions over the economic management of the world's most populous country would have counted against Hong Kong.
The Hong Kong Monetary Authority said it respects the bank's decision. "The HKMA appreciates that for a large international bank such as HSBC, relocation of domicile is a very major and complicated undertaking," Chief Executive Norman Chan said in a statement.

The bank's review was "exhaustive" and looked at the regulatory regime, future growth, and existing scale in several countries, including Canada, the U.S., China, Australia, Singapore, France and Germany. The final two markets considered were Hong Kong and the U.K., the bank said. A move would have cost as much as $1.5 billion, according to an analysis by Sanford C. Bernstein.
In a sign the board struggled to make a decision, it missed a self-imposed deadline to make its mind up by the end of 2015. It also sought strategic advice from former U.S. secretaries of state Henry Kissinger and Condoleezza Rice, a spokeswoman for the bank said.
The decision was "much as expected," Hugh Young, Singapore-based managing director of top-10 shareholder Aberdeen Asset Management Plc, said in an e-mailed response to questions. The bank gained concessions and clarity from the U.K. government so a move wasn't worth the "huge legal effort," he said.
Founded in 1865 as the Hongkong and Shanghai Banking Corp., HSBC began debating a shift last April, assessing factors such as taxation, financial regulations and the risk of Britain exiting the EU. In such an event about 1,000 jobs would move to France, Gulliver said in a phone interview on Monday.
"There would be a period of great uncertainty and disruption" following Brexit, Gulliver said. "Some of the jobs would have to go to Paris."
'Banker Bashing'
London's appeal grew after last May's election handed full power to the Conservative Party, allowing Osborne to loosen pressure on the finance industry after years when "banker bashing" was a popular political stance. The 2008 crisis threw the economy into recession and required about 1 trillion pounds ($1.45 trillion) of government support to stop the banking system from collapsing, though HSBC didn't require any state assistance.
Keen to keep HSBC, which employs 45,000 across the U.K. and paid $2.4 billion in British taxes in 2014, Osborne declared a "new settlement," cutting a proposed levy on banks that would have disproportionately hurt the lender and refocusing it on domestic balance sheets rather than global assets. He eased regulatory scrutiny and curtailed the era of huge fines, pushing out the combative Martin Wheatley from the Financial Conduct Authority.
"It's a vote of confidence in the government's economic plan, and a boost to our goal of making the U.K. a great place to do more business with China and the rest of Asia," a spokeswoman for the U.K. Treasury said in an e-mailed statement.
Not Complacent
Also working in London's favor was the deceleration in China's economy to its slowest rate since 1990, threatening growth in other parts of Asia. Even with the "One Country, Two Systems" principle under which China governs Hong Kong, concerns about encroachment on the territory's autonomy also mounted following the disappearance of a publisher based in the former colony.
Hong Kong's attraction lay in access to Asia, and a 16.5 percent corporate tax rate versus Britain's 20 percent. Analysts also speculate its regulators would be more lenient than those in the U.K., where the bailouts led authorities to zero in on dangers from the size of banks.
Gulliver is still counting on Asia to drive growth. The CEO has said half of the $180 billion to $230 billion in risk-weighted assets he plans to redeploy under a revised strategy will be invested in Asia, as HSBC adds some 4,000 jobs in China's Pearl River Delta region over the next three to four years. People may be added at a "slightly slower" pace, he said on Monday.
Asia accounted for 62 percent of HSBC's pretax profit in the nine months to Sept. 30, according to its latest set of results. Profit in Asia fell 4.4 percent to $3.5 billion in the third quarter, while in Europe earnings dropped 44 percent to $969 million.

"HSBC is giving investors a clear message that it will remain an international bank based in Europe, while developing the Asian business at the same time," said Ronald Wan, CEO at Partners Capital International Ltd. in Hong Kong.
This wasn't the first time HSBC had threatened to leave since its relocation to London in 1993, which followed its acquisition of Midland Bank Plc ahead of 1997's return of Hong Kong to Chinese sovereignty.
The bank complained about its tax bill in 2006 and reviewed the issue again in 2010 after then-CEO Michael Geoghegan transferred his office to Hong Kong to focus on expansion in Asia. HSBC has decided that the practice of reviewing its domicile every three years is unnecessary and will end, according to the statement.
"We want to have truly global companies, major employers like HSBC, headquartered here so this announcement is good news," Carolyn Fairbairn, director general of the Confederation for British Industry, the country's biggest business lobby, said in an e-mailed statement.
Before it's here, it's on the Bloomberg Terminal.
LEARN MORE